Posts Tagged 'Wallace Shawn'
June 6, 2012 | by The Paris Review
Unlike some magazines, we don't do "theme" issues. And yet, as we collected the material that makes up 201, we couldn't help notice that the issue had a decidedly ... dramatic bent. Not just interviews with Tony Kushner and Wallace Shawn, but Ann Beattie's story, "The Astonished Woodchopper," featuring just that; a Sam Lipsyte story about a modern-day duel; Roberto Bolaño poems about sex and betrayal; Rich Cohen on pirates; Waris Ahluwalia on animal attraction; Davy Rothbart telling the true story of the best night of his life; plus, J.D. Daniels directing you to eat your parents.
Tony Kushner:
In some ways the Internet is definitely an enemy. This morning I was going to work on a Lincoln rewrite before I came to meet you. A couple of days ago I biked all over Provincetown looking for a needle threader—you know, one of those old-fashioned little tin discs with a cameo on it and a thin wire loop sticking out. I found one and bought it. I'm trying to teach myself how to needlepoint. I even considered bringing my needlepointing here, needlepointing during the interview, but then what would you think? Anyway, I bought this needle threader, but it was crap–two uses into it, the thing broke. So, this morning before working on Lincoln, I decided I would go online and find a really good needle threader. And who knew that on Amazon alone, there are dozens of needle threaders? So I started thinking, Why does this needle threader have five starts and this one four and a half? And this one only has two, isn't that interesting? Can you imagine who got this needle threader and was really disappointed? And then, it's like, Oh my God, it's ten o'clock! I didn't do any work.
Wallace Shawn:
I wish there were more plays about a life that is exactly like mine. I would love that! If the program says, 'An apartment in Manhattan today,' I'm thrilled! And if it says, 'An apartment in Chelsea, in Manhattan, today,' where I live, I'd be even more thrilled. I'm amazed if I can see an actor imitate someone with a French accent—that's fantastic—and I'm even more excited if an actor can illuminate the psychological state of a person similar to me and the people I know. So I do like naturalistic theater. But I like many kinds of theater.
Plus, poetry from John Ashbery, Sophie Cabot Black, Raúl Zurita, Octavio Paz, Lucie Brock-Broido, and David Ferry; nonfiction by Ludmilla Petrushevskaya; and a new translation of Virgil.
December 12, 2011 | by David Zax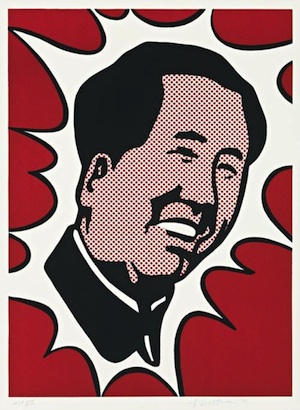 On a recent Sunday evening, in a lounge at the Jane Hotel in Manhattan, the writers Kurt Andersen and Anne Kreamer enacted before an audience the final pages of The Adventures of Mao on the Long March, a 1971 work of literary pastiche by the author Frederic Tuten. Andersen played the role of Chairman Mao, sitting for a fictitious interview. "Have you seen Godard's La Chinoise?" asked Kreamer, playing his interlocutor. "Have you seen Dali's Mao/Marilyn?" "Chairman Mao, perhaps I might ask your opinion on birth control." Tuten himself, a septuagenarian in a black blazer, sat at the front of the room, beaming with happiness at the event held in his honor.
If you have not heard of The Adventures of Mao, you would not have been out of place at its marathon reading. Indeed, some of those who gathered to participate in the reading—a roster including Lydia Davis, Wallace Shawn, Walter Mosley, John Guare, and Edmund White—admitted to having had only a glancing familiarity with the novel or its author. Yet The Adventures of Mao, about, as the title suggests, the Chinese dictator's rise to power, has always had its advocates; Susan Sontag called it "soda pop, a cold towel, or a shady spot under a tree for culture-clogged footsoldiers on the American long march." In 1972, the book achieved that pinnacle of literary attention, the John Updike New Yorker review. Analyzing the novel's five distinct modes—textbooklike history of the Long March; ample direct quotation from the likes of Hawthorne, Melville, and Fenimore Cooper; passages of literary parody of authors such as Kerouac and Malamud; "normal novelistic substance—imaginary encounters and conversations"; and, finally, that extended interview with Chairman Mao—Updike declared the resulting sum "an intelligent, taut, and entertaining change from conventional novels."
Despite Mao's champions over the decades—New Directions embalmed it as one of its classics in 2005—the event at the Jane Hotel was in some ways an unlikely one. It had all begun in the Strand Bookstore, where three men in their twenties stumbled upon the book and brought it to their book club. Read More »