Posts Tagged 'Wall Street'
March 29, 2012 | by Jason Novak
Bartleby is a law clerk on Wall Street who one day refuses a demand from his startled boss with the words "I'd prefer not to." Over time, he prefers to do less and less, confounding the lawyer, until at last he is taken to prison, where he refuses to eat. At the end of the story, we learn that Bartleby worked in the Dead Letter Office, burning people's unclaimed letters.
I drew this as a break from struggling with a larger piece I've been working on, so I was amused to learn that Melville wrote "Bartleby" while struggling with Moby Dick. Indeed, some of the details in this story are reminiscent of Melville's sea fiction: there are no women; the world outside Bartleby's office is murky, like the sea; he stares out the window at a brick wall for hours on end, like a weary mariner gazing at an endless horizon. The prevailing tone is one of destruction, so I used the flame from my kitchen stove to burn the bottom edge of the panel.
Click in and scroll down for the whole tale.
March 6, 2012 | by Amitava Kumar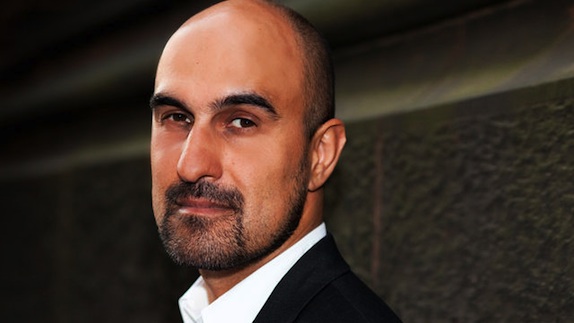 Hari Kunzru's latest novel, Gods Without Men, is being released in the U.S. today. Set in the Mojave Desert, the novel is an echo chamber for stories divided across more than two centuries. The clever symmetries that link the stories reveal the bleached bones of American identity—racial mixing, violence, an unending contest over the politics of meaning and faith. This is Kunzru's fourth novel; his debut, The Impressionist, appeared in 2003 and was followed by Transmission (2004) and My Revolutions (2007). I conducted this interview by e-mail, but I saw Kunzru only a few weeks ago, in late January, at the Jaipur Literature Festival. He had done a public reading from Salman Rushdie's The Satanic Verses , a book banned in India since its publication more than two decades ago. Rushdie had been scheduled to appear at the festival but, because of threats to his life, decided to stay away. When I last saw Kunzru, it was close to midnight and he was making calls to lawyers overseas. He had been informed that he was facing arrest. The next day, on legal advice, Kunzru left the country.
The first time I read about you, you were described as having "a nonspecifically exotic appearance" that marked you "as a potential native of about half the world's nations." How do you usually explain your origins?
I was born in London. Depending on who I'm talking to, and how I feel, I might describe myself simply as a Londoner, British (that one's only crept in since I came to live in New York—to anyone in the UK, it's weirdly meaningless), English, the son of an Indian father and an English mother, Kashmiri Pandit, rootless cosmopolitan … Read More »