February 11, 2013 | by Rachel Yoder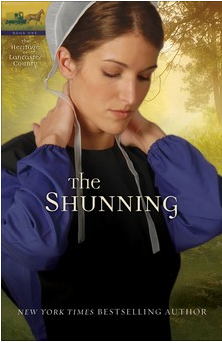 I didn't know Amish romance novels existed until a trip I took a number of years ago to Shipshewana, Indiana. There my uncle directed an Amish and Mennonite cultural center, and I was ostensibly working on a book about Amish and Mennonite culture, so it seemed a place I should go. I had just turned thirty and was beset with ambivalent, indistinct longings for the Mennonite heritage in which I'd been raised, even though the entirety of my twenties had served as an extended exercise in exodus and estrangement. Still, I went, most excited to locate and eat some peanut butter pie made with flaky, lard-infused crust.
The cultural center my uncle ran was called Menno-Hof, hof a Pennsylvania Dutch word that means something close to "farmyard," though at Menno-Hof the farmyard is neatly pruned, the pond perfectly ovular, the flower garden precisely planted to approximate a quilt. It seemed to me a beautiful lie in need of some freshly dropped horse patties.
After touring the fastidiously curated exhibits in the barn and adjacent whitewashed Amish farmhouse—replete with a recreated reformation dungeon, a small hurricane room with a vibrating floor and powerful fans, a Conservative Mennonite church where a booming God voice commanded that I consider my spiritual fate—I finally wound up in the gift shop on the brink of both ecstatic revelation and nervous breakdown. Many of the wares there approximated the contents of my mother's root cellar (raspberry jam and apple butter in glass jars) and the theological section of my father's library (Nonviolence—A Brief History: The Warsaw Lectures, by John Howard Yoder). 
The only items there truly unfamiliar to me were two wire racks full of paperbacks, their covers each backlit with the golden glow of God's everlasting presence and bucolic perfection: wheat fields, corn fields, rivers and barns beneath cerulean or honey skies. A plain-clothed woman in some state of muted emotional duress gazed into the middle distance beneath her white bonnet. I spun through the racks, elated, repulsed. Could there be anything better, or worse, than Amish romance novels? Read More »
December 24, 2012 | by Aaron Gilbreath
We're out this week, but we're re-posting some of our favorite pieces from 2012 while we're away. We hope you enjoy—and have a happy New Year!
Because my grandfather owned a men's clothing store and my dad briefly worked for him, I spent a lot of my childhood in malls. Hanging around malls is already a tradition in Phoenix, Arizona, where I grew up. It's as central to life as driving and eating Mexican food, a habit stemming from a mix of materialism, a reflexive tendency to "pass time," and a very practical need for air conditioning. But it was also a habit born of an era when malls adorned themselves in gaudy architecture and country-and-western motifs, presented themselves as shopping experiences rather than just places to shop, and capitalized on Americans' aspirations toward glitz and glamour. I can't enter one of the predictable, interchangeable modern retail spaces without thinking of the heyday of the mall, a period when, to borrow the title of a Time magazine article, malls were "Pleasure-Domes with Parking."
I saw none of these touches of class in person. I was born in 1975, and by then malls had changed. As I experienced it, my Grandpa Shapiro's store, The Habber Dasher, was adjacent to the food court, an echoey hall enlivened by the greasy orange aroma of Pizza D'Amore and the sweet froth of Orange Julius, as well as Kay Bee Toys, the Red Baron video-game arcade, and the movie theater. My time at the mall was spent buying shockingly lifelike diecast metal cap guns at Kay Bee and then eating free samples of slow-cooked meat from the tiny gyro stall, staring in horror at the hard, sunken eyes of the whole smoked fish in Miracle Mile Deli's cold case, or looking up at the tall escalator that led into UA Cinema. When I walked through the open, indoor plaza where Santa Claus sat in a huge Styrofoam Wonderland, surrounded by polymer wads of fake snow while the sun shone outside, I had no clue that malls could be anything but what they were then, that they had any history at all.
In fact, shopping arcades and centers existed in the Western World as early as the 1920s. The classic, fully enclosed form now known in America as "the mall" debuted in Edina, Minnesota, in 1956. An Austrian-American architect named Victor Gruen designed the so-called Southdale Center, and it became the de facto prototype for a wave of enclosed, temperature-controlled shopping complexes structured around big name "anchors" and interior garden spaces. Read More »