September 5, 2013 | by Amy Grace Loyd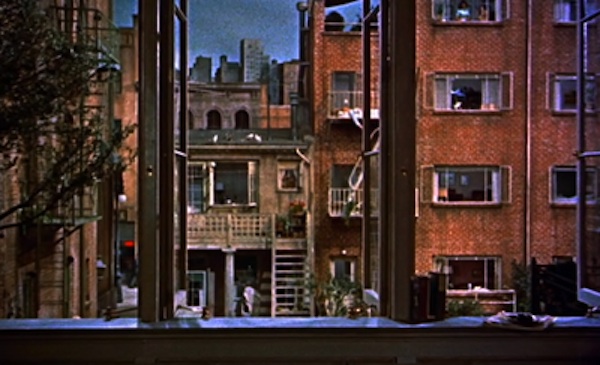 I tried not to look. The couple couldn't see me but I could see them, day and night, if I chose, and often enough I did. It's a benefit or drawback of urban living that our sight lines in the tight geometry of New York City drive us into the lives of others, into private moments not meant for spectators, if we do not pull the blinds, if we don't look away or past what's on offer.
I lived in Brooklyn Heights, as I still do, but at the time I found myself on the third floor of a jumble of an old building on the main drag, Montague Street. It's a street more plaintively commercial and less pretty than the rest of tony Brooklyn Heights; it is more alive with neon and the coming and going of chain stores, salons, restaurants. And with noise, too—from the meals eaten, booze served, and the resulting high spirits, and then those ancient garbage trucks, circling and circling, their brakes screaming.
I stayed too long in that one spot probably, but the rent was affordable, the Greek landlord fatherly, a friend who often treated me to dessert and stories, and I felt safe then in what I described as a garret but was merely two small rooms that vibrated from the ventilation units from the restaurant below.
The front of my apartment looked out onto Montague. The rear faced an accidental courtyard, the back of the restaurant, Mr. Souvlaki, featuring a fountain that usually didn't work, a small fenced-in patch of scattered plantings, and the backside of a few apartment buildings. The buildings were close, less than fifty yards from what was my combined kitchen and living room, and the apartment in which I came to see so much was slightly higher than my own, so my vantage allowed me to peer up and in, as if that one living space directly across the way was up on a pedestal.
I can't say when the couple moved in because when they did I'd been in love and my eyes were diverted inside me, charting the ways in which I felt discovered, opened up, prized, or to the moments I'd be near him again, inside the gold of his skin, the wiry lengths of his arms, or to the future of more love and his lips on the back of my neck and shoulders, his tongue writing messages there, everywhere, reaching inside my insides. And there was the pull of his intoxicating smell and even of his home, not in Brooklyn or in New York state, but further north in a place by the Atlantic dotted with sea roses and overrun with green so dense, during the season I met him, that it seemed in revolt, poised to take over. Read More »