July 2, 2012 | by Clancy Martin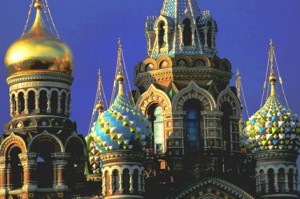 I was in Saint Petersburg, at a restaurant owned by a friend. It was in a strange building, a kind of old mansion. He took me back through several empty ballrooms—you could feel the springs beneath the wooden floors, installed many years ago, for dancing. We sat together in a small room. It had only two tables, and its windows were hung with heavy curtains. It was one of those private dining rooms that you read about in Russian novels, and my friend began to bring me different dishes. I recognized only the blini with black and red caviar; everything else was new to me. At this time, thirteen years ago, I was a wine drinker, but they did not have wine worth drinking in Saint Petersburg then, and he was pouring me glasses of vodka. Then several government officials arrived, important men, and he left me alone.
I noticed my waitress was beautiful. She was taller than me, with high aristocratic cheekbones, pale skin, lips full of blood, big firm tits. Very much the woman you want, if you want a Russian beauty. The type that has since made exported Russian prostitutes famous throughout Europe, the Middle East, and (lately) even large cities in the U.S.
I was determined to have sex with a Russian whom I did not have to pay.
January 25, 2012 | by Barry Yourgrau
A., my girlfriend, is originally from Moscow. Her mother lives around the corner from us in Queens and throws dinner parties. It's mainly an older, cultured ex-Soviet crowd. Lots of vodka, lots of overeating zakuski (appetizers to accompany vodka)—hours of nostalgic guffawing (Soviet jokes) and choral crooning (dissident songs and Stalinist patriotic rousers, with equal pleasure). Not speaking the lingo, I grin a lot—a genial, inebriated, slightly patronized potted plant.
The air of these evenings is thick with Russian irony and cultural chauvinism. Pushkin is beyond all criticism. "How dare you even pronounce his name with your filthy mouth," A. will flare up, not altogether faking her indignance.
Or an old photographer-pal of Brodsky's from Leningrad (inevitably old pals of Brodsky's are present) will assert that Russian translations of Hemingway far surpass the originals.
This latter bit of flag-waving causes me to reflect that much of the literature that deeply influenced me as a writer I read in English translation. Foremost stands Isaac Babel, whose compressed, lyric violence overwhelmed me in my twenties. Then there was Bulgakov; even P—n's fate-haunted tales. Later, in my early days with A., while she was away and I mooched disconsolately in her apartment, I read in translation Shalamov's horrifying, degraded, flickering Kolyma Tales about his frozen years in the Siberian Gulag. I kept dropping the book and pacing away, moaning and clutching my head at the savagery, the unspeakable pathos. Then there were Cendrars and Simenon, Borges and César Aira (another alchemical Argentinean, rendered brilliantly by Chris Andrews) .
But, however good the English versions, there's always in these books a slight straining—a hovering sense of idioms being just off. Read More »