Posts Tagged 'Van Morrison'
March 25, 2014 | by Sadie Stein
The thermometer outside my kitchen window reads thirty-nine degrees, firmly on the leonine side of March's spectrum. But in the park, trees are budding. In the greenmarkets, forsythia are rearing their heads. And, in restaurants, shad are running.
Okay, they're not actually running in restaurants. On my annual pilgrimage for shad roe, my better-informed dining companion told me that these particular egg sacs had likely traveled north from Washington, D.C.—maybe from the Potomac? The point is, shad are in season, whether one favors the bony fish itself or its slightly more approachable roe.
Shad and shad roe used to be a common spring meal up and down the Eastern seaboard. Nowadays, it is the purview of traditionalists and evangelical seasonal eaters. If you are neither, it is still the kind of edible time machine that is worth seeking out when you can. At the Grand Central Oyster Bar, the roe is served with bacon and a broiled tomato. Newly cleaned, the restaurant's famous Murano tiles gleam under the lamplight, and commuters come and go, and even if you secretly think the shad is pretty overcooked and you're kind of relieved not to have to eat it on the regular, all is very much right with the world. Read More »
March 14, 2013 | by Matt Domino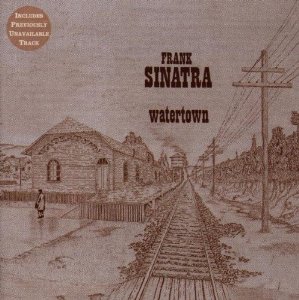 No one under the age of fifty really listens to Frank Sinatra anymore. Like anything else, there may be exceptions to this fact, but overall it's true. Frank Sinatra is a legendary artist whose work will always be enjoyed and referred to. However, his era of direct relevancy is obviously long gone, and his era of anecdotal relevancy is starting to fade.
We associate Frank Sinatra with a bygone era of America, a time of guys and dolls, a time when people would swing and dance and when the lounge singer was king. Sinatra's unique talent was maintaining this vision even as it eroded away over time—to make you feel old-fashioned feelings in a modern era. Sinatra's heyday was from the late forties to the late fifties, yet he recorded "New York, New York" in 1977.  And "My Way" makes you feel like a proud man looking over the skyline of post–World War II Manhattan, even in 2013.
Still, Sinatra's most overlooked achievement is perhaps the one album he made that did not feel as though it was evoking the era he loved or knew the most. In 1969, the same year that Frank Sinatra recorded "My Way," he released an album called Watertown. Chances are, even some of the biggest Sinatra fans—like my grandparents and great aunts and uncles—have forgotten about Watertown. But Watertown is Frank Sinatra's best album and his most enduring contribution to American culture. Read More »