Posts Tagged 'Valérie Mréjen'
November 21, 2011 | by The Paris Review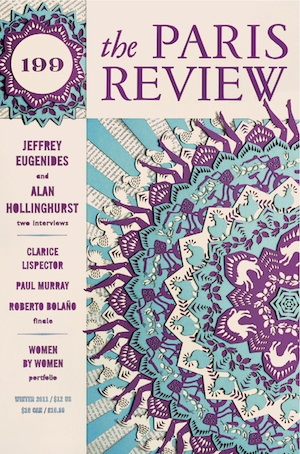 The Paris Review sends you holiday cheer—and our Winter issue! Naughty or nice, it's got something for everyone: a portfolio of women by women, curated by our art editor, Charlotte Strick; fiction by Clarice Lispector, Paul Murray, and Adam Wilson; the English-language debut of  French literary sensation Valérie Mréjen; and the conclusion of Roberto Bolaño's lost novel The Third Reich, with original illustrations by Leanne Shapton.
The Winter issue also contains long-awaited interviews with—
Jeffrey Eugenides:
I tell my students that when you write, you should pretend you're writing the best letter you ever wrote to the smartest friend you have. That way, you'll never dumb things down. You won't have to explain things that don't need explaining. You'll assume an intimacy and a natural shorthand, which is good because readers are smart and don't wish to be condescended to.
and Alan Hollinghurst:
I was very excited by the idea of telling truths that hadn't been told before and breaking down literary categories. Descriptions of gay sexual behavior had until then tended to be restricted to pornography, and the presence of gay lives in fiction had been scant. So I had the great fortune of being given this relatively unexplored territory.
Plus … poems by David Wagoner, Jonathan Galassi, Dorothea Lasky, Ange Mlinko, Gottfried Benn, and Rowan Ricardo Phillips.
September 16, 2010 | by Nelly Kaprielian
This is the second installment of Kaprielian's culture diary. Click here to read part 1.
DAY FOUR
11:00 A.M. Trying to write my column. I got an e-mail from Michel H. asking me not to put the photos of him bare-chested on the cover for September 8. It's too bad, those photos are the best by far.
11:15 A.M. Still trying to write my column (nothing to say, really). Get a phone call from the French publisher of Bret Easton Ellis's new novel, Imperial Bedrooms. (It's such a great novel. I know American critics don't like him. As we say in French, "nul n'est prophète en son pays.") They're very cool about it, but they just want to let me know how badly we've screwed up their plans. We put Ellis on the cover of our rentrée issue, which came out August 18, and ran the interview he gave me in Los Angeles, but it was a month before the book came out. Usually we don't do stuff like that. Nobody does. But this year the publishers decided to publish some very famous and interesting writers late in the season—no doubt to get coverage early on for authors who are less well known.
But the rentrée needs one or two locomotives if the books are going to get read—ditto the magazines. If you put a star on the cover, people are curious to read the article, then they read the other reviews, even of first novels. (That's how each book finds its readers.) Also, I have to say, we're the only magazine that puts writers on the cover at all. Everyone knows a writer doesn't sell copies. That's the sad reality. And it's why I like working for Les Inrocks—we can still do it anyway.
2:00 P.M. Reading the new (to us) Philip Roth, Indignation. I interviewed Roth last year in New York. He's one of the sexiest minds I've ever met. Les Inrocks are putting together a series on the greatest American writers. I wonder if an American magazine would ever do the same for French writers!
5:00 P.M. High heels? Not serious enough. An expensive bag? Too bling. Black trousers and black jacket? Too executive… Finally I opt for a black minidress and black ballerina slippers for our annual rentrée cocktail party. It takes place in a restaurant in the Panthéon cinema, decorated by Catherine Deneuve. Cozy, cool, lounge-y. Unless you're as tense as I am. It's nice but always difficult to have all those people around. And will they even show up? If they do, what to say? How to behave? But I'm relaxing as the years go by. Now I know all you have to do is smile. And kiss. So I spend my evening smiling and kissing. And everyone is happy—me included.
10:00 P.M. Over. All the publishers came, lots of writers I like, and of course, my friends. How easy it all was. I no longer feel the need to look serious when a writer tells me his new book is about vibrators. And when a writer comes up to shake your hand, now I know that "Bravo!" is all you have to say about the book. They'll understand. What I've learned over the years is that everybody needs to be loved. Absolutely everybody! And the love people need is endless. By ten, the Inrocks team seems satisfied with the party, so I can leave with my friends for Le Rostand, a café across from the Luxembourg Gardens. (Yes, Rostand is a café now. Le Balzac is a cinema. And Colette is a trendy boutique.) Read More »