Posts Tagged 'underpants'
June 16, 2014 | by Sadie Stein
In honor of James Joyce, I've spent Bloomsday carrying around a pair of doll's underpants. I encourage all Joyce enthusiasts to do the same.
Doll underpants figure in Ulysses as a signifier in Leopold and Molly's courtship—they're what the critic David Cotter terms "a fetish charged with a tension between extremes." As Molly Bloom recollects, she gave Leopold just such a talisman after one of their first dates:
so now there you are like it or lump it he thinks nothing can happen without him knowing he hadnt an idea about my mother till we were engaged otherwise hed never have got me so cheap as he did he was lo times worse himself anyhow begging me to give him a tiny bit cut off my drawers that was the evening coming along Kenilworth square he kissed me in the eye of my glove and I had to take it off asking me questions is it permitted to enquire the shape of my bedroom so I let him keep it as if I forgot it to think of me when I saw him slip it into his pocket of course hes mad on the subject of drawers thats plain to be seen always skeezing at those brazenfaced things on the bicycles with their skirts blowing up to their navels even when Milly and I were out with him at the open air fete that one in the cream muslin standing right against the sun so he could see every atom she had on when he saw me from behind following in the rain I saw him before he saw me however standing at the corner of the Harolds cross road with a new raincoat on him with the muffler in the Zingari colours to show off his complexion and the brown hat looking slyboots as usual what was he doing there where hed no business they can go and get whatever they like from anything at all with a skirt on it and were not to ask any questions but they want to know where were you where are you going I could feel him coming along skulking after me his eyes on my neck he had been keeping away from the house he felt it was getting too warm for him so I halfturned and stopped then he pestered me to say yes till I took off my glove slowly watching him he said my openwork sleeves were too cold for the rain anything for an excuse to put his hand anear me drawers drawers the whole blessed time till I promised to give him the pair off my doll to carry about in his waistcoat pocket
August 21, 2013 | by Sadie Stein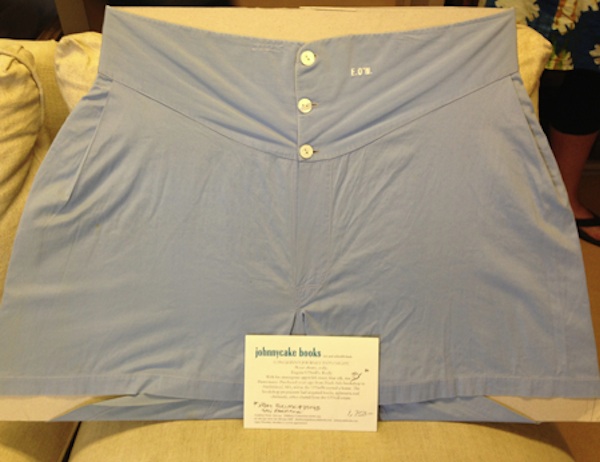 In the words of my colleague Justin Alvarez, "Holy Iceman Cometh, Eugene O'Neill's underpants finally for sale!" Well, for a cool $1,750. The shop's owner captioned the shorts "longjohn's journey into night." Seriously, we can do this all day.