February 27, 2012 | by Sadie Stein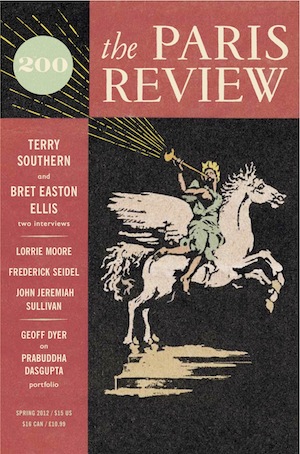 It's The Paris Review's 200th issue, and that's a big deal.
As if two hundred volumes of fiction, poetry, belles-lettres, and iconic interviews weren't reason enough to celebrate, this one is something special, including: fiction by Lorrie Moore, David Means, and Matt Sumell; poetry by Adrienne Rich, Rowan Ricardo Phillips, and Frederick Seidel; essays by David Searcy, Geoff Dyer, and John Jeremiah Sullivan; and literary paint chips by Leanne Shapton and Ben Schott.
The Spring issue also contains a blockbuster interview with Bret Easton Ellis:
American Psycho came out of a place of severe alienation and loneliness and self-loathing. I was pursuing a life—you could call it the Gentleman's Quarterly way of living—that I knew was bullshit, and yet I couldn't seem to help it. American Psycho is a book about becoming the man you feel you have to be, the man who is cool, slick, handsome, effortlessly moving through the world, modeling suits in Esquire, having babes on his arm … On the surface, like Patrick Bateman, I had everything a young man could possibly want to be 'happy' and yet I wasn't.
Plus, Maggie Paley's interview with Terry Southern—in the works since 1967. Southern, asked what he would do with unlimited financial resources, replied:
First I would engage a huge but clever and snakelike "Blowing Machine," and I would have it loaded with one ton of dog hair each Monday, Wednesday, and Friday. It would be brought up East Seventy-second Street to the very end, where it would poise itself outside George Plimpton's house like a great dragon. Then, exactly when Katherine the Char had finished one room, the powerful, darting snout of the machine would rise up to the third floor windows and send a terrific blast of dog hair into the room—a quarter ton per room. I would observe her reaction—I have friends opposite—with a spyglass, room by room. The entire place would be foot-deep in dog hair, most of which however has not yet settled and has the effect of an Arctic blizzard. Then I would drop in—casually, not really noticing her hysteria, or that anything at all was wrong, just sort of complaining in a vague way, occasionally brushing at my sleeve, et cetera, speaking with a kind of weary petulance: "Really, Katherine, I do think you might be more ... uh, well, I mean to say ..." voice trailing away, attention caught by something else, a picture on the wall: "I say, that is an amusing print—is it new?" fixing her with a deeply searching look, so there could be no doubt at all as to my interest in the print. If this didn't snap her mind I would give her several hundred thousand dollars—all in pennies. "Mr. Plimpton asked me to give you this, Katherine—each coin represents the dark seed of his desire for you."
July 28, 2010 | by Angus Trumble
DAY ONE
4:45 A.M. Reviewing two new books about Caravaggio—books that are about as different from each other as it is possible to be: Caravaggio: A Life Sacred and Profane, by Andrew Graham-Dixon, and The Moment of Caravaggio, a series of illustrated lectures by Michael Fried. Almost everything we know about the man himself comes from evidence meticulously transcribed by hugely diligent notaries attached to the Roman civil and criminal courts: a litany of threats, assault, battery, and, ultimately, cold-blooded murder.
6:00 A.M. Until two years ago it was axiomatic that Caravaggio did not draw. Thanks to a new infra-red camera, however, we may now observe what was previously thought not to exist, namely short choppy lines in ink—unmistakable evidence of fairly extensive under-drawing by which the artist set down on the primed canvas his principal points of reference. There is also evidence of scored lines and even tracing, à la carbon paper. None of this overturns the basic fact that draftsmanship was not very important to him. But at least we now know Caravaggio certainly practiced it when he needed to, the crafty devil.
12:30 P.M. I am re-reading My Memories of Six Reigns, by H. H. Princess Marie-Louise, having some months ago suggested it as an ideal summer book for readers of the Yale Alumni Magazine, especially connoisseurs of that neglected subgenre of dotty royal memoir. "Cousin Louie," as she was known, was the fourth child of Queen Victoria's bad-tempered middle daughter, Princess Helena. Her book is a fantastically weird combination of out-of-sequence table-rapping reminiscence; reverent reflection upon the burdens of monarchy, and innumerable flecks of interesting detail1.
1:45 P.M. Louie's Edwardian wedding to Prince Aribert of Anhalt was the bright idea of Cousin Willie, the Kaiser, but more accurately an example of his total lack of judgment. It seems the Prince was soon afterwards caught in flagrante with an attractive young male servant in, on, or more probably beside the marital bed, and, concluding from this that her marriage was no longer viable, Louie promptly undertook an extended tour of Canada and the United States. Returning to Britain she immersed herself in charitable and artistic work, set up a Girls' Club in Bermondsey, kept an eye on her mother's nursing homes, and lent modest support to the imperial trade in dried fruit. Wholly guileless, Princess Marie Louise is irresistible. Read More »
Annotations
For example, during the darkest days of the Blitz, Louie and her older sister Thora (Princess Helena Victoria) were discreetly evacuated with the Polish ambassador and his family to borrowed accommodations in the attic of an old house near Ascot. She radically overstated the spartanness of the arrangement.