April 4, 2014 | by Mimi Pond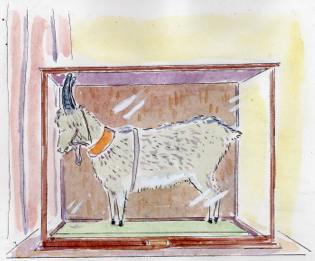 Saturday, February 28
We fly from our home in Los Angeles to York, Pennsylvania, so that my husband, the artist Wayne White, can begin building an art installation commissioned by York College of Pennsylvania. It will be constructed inside an historic former Fraternal Order of Eagles Hall in downtown York, now an organization called Marketview Arts. All of York is crazy historic, dating back to 1740! Temporary capital of the Continental Congress! Articles of Confederation drafted and adopted here! Home of the Underground Railroad! WHAT? This is a mind-blower for a history-loving girl from Southern California, where they tear down anything older than 1967 and replace it with a building made out of Popsicle sticks and Elmer's Glue. Read More »
April 10, 2013 | by Evan James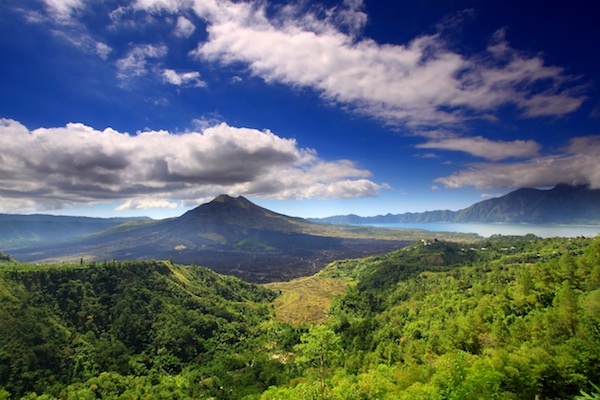 "I forgot my camera," I said to Wayan, the tour guide on our bicycle trip. He had, moments earlier, announced "Kodak moment!" as we slowed for our first stop—a lookout point over a mist-filled valley of tiered rice terraces. Two Swedish girls, two Dutch girls, and an English girl posed at the precipice, photographing themselves with evidence of having been to a beautiful vista in northeastern Bali.
"Oh no," said Wayan. "Well, you will keep it in your head."  
My head already resembled a home interior from the TV show Hoarders, more so now that the compulsive caretakers within had made it their mission to collect as many Indonesian words as possible. I knew the word for "beautiful," but lacked the impulse to document beauty. If I had to build a new mental wing to house the active volcano Mount Batur, so be it.
Still, imagined disappointment from intimates ate at me. It seemed I could not cement a solid habit of picture-taking, and in this way I felt I failed the demands of our time at every picturesque turn, successful only in my failure to do the thing I should have, in retrospect, done—done for friends, for family, for Facebook.
The feeling left me as the day progressed. The Swedish girls took cheeky snapshots of themselves knee-deep in the mud of a rice paddy outside a small village. "Dirty feet!" they cried, flashing smiles.
"It's like a spa treatment," one joked, stepping out with wet muck on her calves.
"I used to help my father do this when I was a boy," said Wayan. He crouched down to plant a few sprouted seedlings.
"It must be kind of fun for little kids to be in the mud and the water," said one of the Swedes. "Like playing."
When we stopped at a coffee plantation, the Dutch girls took pictures of a caged civet, whose digestion and excretion of raw beans is essential to the production of expensive, earthy kopi luwak. Pictures of old Balinese women in their family compounds chopping and peeling bamboo into usable strips. Pictures of a five-hundred-year-old banyan tree. I would later persuade my fellow tourists to e-mail me these pictures, so that I could pass them off as my own when I returned.
At a particularly stunning view of the volcano, the English girl said to me, "Bet you wish you'd brought your camera now."
"There's a lot of things I wish," I said in my head, keeping that there as well.
"What do you do all day? Just sit around?" Read More »