Posts Tagged 'Thomas Disch'
February 2, 2015 | by Dan Piepenbring
Tom Disch, who would've celebrated his birthday today, is best known for his science fiction and his poems, some of which were first published in The Paris Review. But he also wrote, in 1986, a text-based video game called Thomas M. Disch's Amnesia, which has become a kind of curio in the years since its publication—an emblem of a brief time when gaming and experimental fiction shared similar agendas, and when "interactive novels" seemed as if they might emerge as a popular art form.
Amnesia begins the only way such a project could: in a state of total confusion. "You wake up feeling wonderful," Disch writes,
But also, in some indefinable way, strange. Slowly, as you lie there on the cool bedspread, it dawns on you that you have absolutely no idea where you are. A hotel room, by the look of it. But with the curtains drawn, you don't know in what city, or even what country.
December 28, 2012 | by John Lingan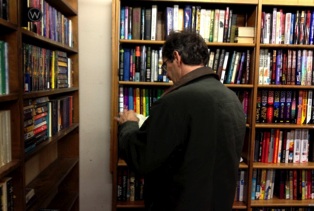 We're out this week, but we're re-posting some of our favorite pieces from 2012 while we're away. We hope you enjoy—and have a happy New Year!
I was dragging my five-year-old daughter through the musty stacks of my favorite used bookstore last spring when a middle-aged man, squatting in the Sci-Fi section next to a brimming cardboard box, caught my eye and reminded me of someone.
"Excuse me," I asked, "are you a writer?"
"I am," he said, standing up and straightening his glasses. His eyes were deep set and hard to read. He was bashful.
"Are you Michael Dirda?" I asked.
"I am."
It was him: the book critic and author, winner of the Pulitzer Prize, known apocryphally as the best-read man in America, whose essays had enticed me to read everything from Little, Big to Three Men in a Boat—and here he was, squinting his way through the lowest shelves in the same crusty bargain dungeon I came to all the time.
"Amazing. Nina, this is the man who wrote that little letter that we have in your George and Martha," I told my daughter. Nina was nonplussed.
"When I was eight, in 1992," I explained, "I wrote a letter to the Washington Post when James Marshall died and you printed it in the Book World section and even wrote a sweet little response. And her grandpa put a photocopy of that letter in The Complete George and Martha for her."