January 17, 2012 | by Amie Barrodale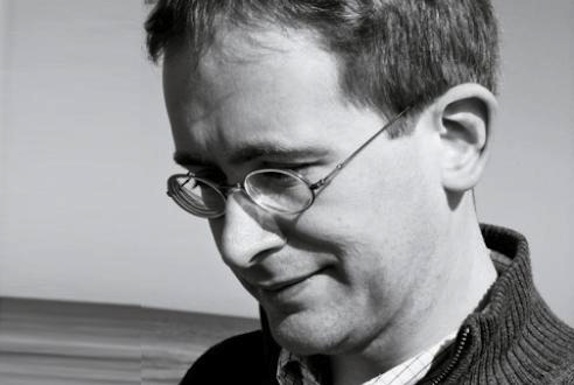 Paul Maliszewski is a friend of mine. He recently published a short-story collection called Prayer and Parable. Around the end of last summer, I asked him if I could interview him about it. We exchanged questions by e-mail for a week. Several times I said that I was incompetent—forget the whole thing—but Paul reassured me I was doing fine. What I especially like about the book is that Paul doesn't compromise when it comes to portraying reality. He's a little like Fellini in 8 ½: he preserves the confusion, meaninglessness, suddenness, and asa nisi masa of the everyday.
I have a question that might be a little bit unanswerable. I know you think a lot about individual sentences, and I wondered what makes a good sentence. Am I right in thinking that you give a lot of time to them?
I do give a lot of attention to sentences, but mainly because they don't come out right for me on the first go-round, or the second, or the eighth, or the thirtieth. Revising takes me a lot of time. I drive myself crazy. I'll just stare at lines. There are sentences in this book where I had a page, back and front, of all the different versions I was at one time trying. One sentence I'm thinking of was not particularly long or complex, but it was at the end of a story, and I didn't want it to seem too ending-y, or pat. So there I was, scratching out, writing something new, circling back.
Reading like that is a hard thing to turn off. I catch myself revising e-mails and I think, What are you doing? When I'm working on a story or essay, if I find something messed up, I make myself start over and read it through again. If I find something else wrong, I start back over, and I keep starting over until I can read it without stopping, until I don't suffer any doubts. That takes a long time, Worse, sometimes revising one sentence throws things off further down the page. It's like I'm working on a pipeline and making a repair at one point, and whatever fix I make feels right, but it twists things around so that they get gummed up later. Read More »
September 14, 2011 | by Ian Volner
Readers of Robert Musil's The Man Without Qualities will recall the "Collateral Campaign," a fictional initiative to commemorate the seventieth anniversary, in 1918, of the ascent of Austrian Emperor Franz Josef to the throne. As the novel progresses, so too does the campaign: it will be a whole year of festivities, it will be The Austrian Year, The Austrian Peace Year. The planning draws in prominent personages who introduce more and more ambitious proposals; it launches scores of dinner evenings, plenipotentiary committees, and public debates.
Musil's subject, and the admixture of sympathy and satire he brought to it, seems awfully familiar in 2011. Nowadays, we are fairly encircled by Collateral Campaigns—by artistic enterprises whose intentions, intellectual and social, are unimpeachable, yet which seem always to hover between event and discourse, between process and product. Example: the new BMW Guggenehim Lab in the East Village, which opened last month.