Posts Tagged 'The Unbearable Lightness of Being'
December 19, 2011 | by Shalom Auslander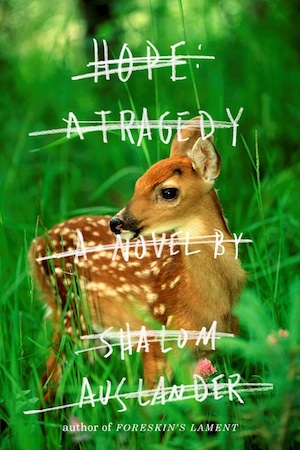 Hope: A Tragedy was the first title I suggested to my editor. I really thought it was right.
"No," he said.
My parents didn't love me, so I have low self-esteem, and I agreed to keep working. These are some of the alternate titles I presented, and the reasoning for or against them:
The Diary of Anne Frankenstein:
My working title; I never really intended to use it—too Sense and Sensibility and Sea Monsters—but it had grown on me, and I mentioned it to my editor as I was finishing the manuscript. This caused him to proclaim a couple of "title rules" for this novel:
1) Nothing funny.
2) No mentioning Anne Frank.
Apparently, people don't buy "funny" novels, and they don't buy books about Anne Frank. Which is, ironically enough, pretty fucking funny.
It's a Wonderful Ka-Pow:
Too funny.
Did I Ever Tell You How Unlucky You Are?
Too funny.
To Those About to Be Consumed by Flames:
Too Sedaris.
Nowhere Ho:
I liked this title quite a bit, a play on the old expression "Westward Ho." Kugel, the main character, wishes for nothing more than to be nowhere—a place with no past, no history, no wars, no genocides. My editor liked it as well, and began mentioning it to people, testing it out. It turns out young people don't know that expression anymore. The poor dears were very confused. My editor was disappointed. I wanted to run to Nowhere even more than I had before.
There was a brief concern that they wouldn't know who Anne Frank is, either, which, we decided, would be pretty fucking funny.
The Sufferers:
I do my best to stay out of bookstores because they make me want to kill myself, but apparently The X is a bit of a trend now. The Informers, The Intuitionist, The Imperfectionists. Et cetera. There was some concern it would be seen as that. I had a difficult time believing that things had gotten so bad that the word "The" was a trend.
"Like the Bible?" I asked.
"Keep working," I was told.
The Lacerations and The Crematorians died for the same reason. Probably for the best, those. Read More »
June 21, 2010 | by Clothilde Lu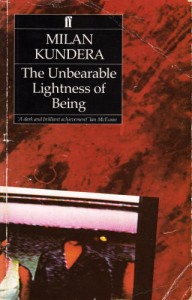 I would never have had my very first orgasm, missionary style, on a twin-size futon in the middle of a school day had he not given me the book. It was
The Unbearable Lightness of Being
. In the inscription, he wrote he didn't want his first gift to me to be something as fleeting as flowers or chocolate. They die, they get eaten, they disappear. How could I not be impressed? I was a teenager, a California girl from the quintessential southern part, where I'd probably been too preoccupied with all that, like, sun to get entangled in post-exile, Czech-communist literature.
Days later, I gave him my virginity. It was his first time too. We did it the way humans are meant to, without rubbers or other prophylactic nuisances. Afterward, he put on my bathrobe and sat out on my balcony, holding a wine-glass of orange juice in one hand, a cigarette in the other. I took a snapshot. We laughed.
I won't lie and say I burned my way through it. In fact, I could barely get past the first sentence:
The idea of eternal return is a mysterious one, and Nietzsche has often perplexed other philosophers with it: to think that everything recurs as we once experienced it, and that the recurrence itself recurs ad infinitum!
Goddamn, it was a doozy of a line—a harbinger of many more that I also didn't quite get. Several pages in, I'd suddenly come out of a haze and realize I'd just lost the last ten minutes of my life. It was like leaving Los Angeles on the 405 late at night, lulled by miles of darkness and speed, and then remembering: I'm still driving.