Posts Tagged 'The Tempest'
February 24, 2014 | by Yona Zeldis McDonough
Santo Richard Loquasto has a big, easy smile, and an infectious enthusiasm for his work. Since his first production—Sticks and Bones, in 1972—he's worked on some sixty-one Broadway productions, either as a scenic or costume designer, and often as both. His cunning sets and fanciful costumes have garnered him fifteen Tony Award nominations (he's won three times), and he's also won numerous Drama Desk Set Awards for Outstanding Set Design and Outstanding Costume Design. Loquasto is also known for his work in film—most notably with Woody Allen, with whom he's worked for decades, most recently on Blue Jasmine. One afternoon last summer we met at the Margot Patisserie on the Upper West Side, where Loquasto talked about how he got his start, the demands of designing for dancers, and the downsides of his job.
What got you into costume design?
Well, it just always interested me as a kid. I grew up in Pennsylvania. Mine is the classic story of a teenager in the Poconos, painting summer-stock scenery because that's what you do there. What I was really interested in was scenery and visuals. I was always creating the mise-en-scène in my backyard. The costumes were always part of it. I was interested in the scenery because in many ways it's … well, I can't say it's more manageable, but it is, of course, because you don't have to deal with people quite in the same way. People think of me as a costume designer, but in New York, the first things I did were scenery. I did a Sam Shepard one-act play off Broadway in 1970, and then worked for Joe Papp for many years. By that time, I was in grad school at Yale, concentrating on both scenery and costumes. I was designing costumes at Williamstown. When you don't sew, you're somewhat intimidated by that aspect of it. You're lucky if you get to work with amazing people who make the costumes for you and with you.
I just raced from this little shop, Euroco Costumes, where I have the costumes designed for most of my dance projects. It's two people, Janet Bloor and Werner Kulovitz. She's brilliant at the stretch issues, and he is an amazing costume-maker of the grand school. Beautiful period cutting. I've only known him for about thirty years. You rely on the shorthand that develops between you and also what they bring to it, which is not only their expertise but also their passion. It's very interesting—normally people who make costumes, who deal with the horrible deadlines and the issues of comfort and the egos of the performers, get sick of it. But I see them get excited by new projects and it's exhilarating for all of us.
Can you talk to me about designing for Alexei Ratmansky's The Tempest?
The Tempest you can approach in any number of ways, like most Shakespeare. I did a lot of Shakespeare in the Park in the seventies, both scenery and costumes, and for ten years, I worked in Stratford, Ontario, at the Shakespeare festival. I didn't do The Tempest there, but I've dealt with the play. It was interesting to work with Ratmansky. For him, working on The Tempest is not like, say, Romeo and Juliet, which is so much more of a ballet vocabulary, both because of the great score, which so guides you, and because of his ballet background. Also, everyone knows the story so well. Whereas with our production of The Tempest, there is this much looser Sibelius score.
I follow the play, and I think you have to start there. As an interpreter, you have to follow the progression as Shakespeare laid it out, with your own understanding of where the words aren't applicable to movement. You understand when Ferdinand and Miranda fall in love. You know what to do. There's anger and rage and comedy. There was a debate at one point about losing the clowns, Trinculo and Stephano. I quietly fought to keep them. I said, their relationship to Caliban makes for a wonderful scene, and those things are in the structure to give us a breather, so it's not just this man railing against everything.Read More »
April 16, 2012 | by Thomas Mallon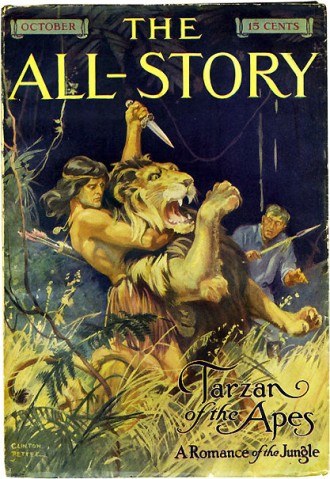 The New York Times made its first mention of Edgar Rice Burroughs on June 14, 1914, when the paper's Book Review included Tarzan of the Apes among "One Hundred Books for Summer Reading." Having asked publishers to supply the hundred titles, the Review editors did "not pretend to say what consideration has inspired each . . . particular selection"—a note of caution that veers toward alarm in the editors' capsule assessment of Burroughs's recent creation: "The author has evidently tried to see how far he could go without exceeding the limits of possibility." The plot description that followed made it clear that, "possibility" aside, plausibility had certainly been breached:
Lord Greystoke and his wife are marooned on the African jungle coast, build a cabin, and become accustomed to the wild life there. A son is born and the mother dies. A herd of giant apes invade the cabin, kill Lord Greystoke, take away the child, and rear it as their own. When the child has become a man he possesses the habits, the language, and the great strength of the apes. One day a white woman is put ashore from a ship, and the ape man falls in love with her, and rescues her from many perils. He also plays the part of instructor to a scientific expedition. The scene then shifts to Wisconsin, where the heroine is rescued from more perils. Meanwhile the ape man has been educated in the culture of his kind, and he finally proves that he has a soul as well as superhuman strength.
Burroughs was surely unfazed by this. Read More »