Posts Tagged '"The Road Not Taken"'
September 11, 2015 | by David Orr
Everyone knows Robert Frost's "The Road Not Taken"—and almost everyone gets it wrong.
From The Road Not Taken: Finding America in the Poem Everyone Loves and Almost Everyone Gets Wrong, a new book by David Orr.
A young man hiking through a forest is abruptly confronted with a fork in the path. He pauses, his hands in his pockets, and looks back and forth between his options. As he hesitates, images from possible futures flicker past: the young man wading into the ocean, hitchhiking, riding a bus, kissing a beautiful woman, working, laughing, eating, running, weeping. The series resolves at last into a view of a different young man, with his thumb out on the side of a road. As a car slows to pick him up, we realize the driver is the original man from the crossroads, only now he's accompanied by a lovely woman and a child. The man smiles slightly, as if confident in the life he's chosen and happy to lend that confidence to a fellow traveler. As the car pulls away and the screen is lit with gold—for it's a commercial we've been watching—the emblem of the Ford Motor Company briefly appears.
The advertisement I've just described ran in New Zealand in 2008. And it is, in most respects, a normal piece of smartly assembled and quietly manipulative product promotion. But there is one very unusual aspect to this commercial. Here is what is read by a voice-over artist, in the distinctive vowels of New Zealand, as the young man ponders his choice: Read More »
January 30, 2013 | by Sadie Stein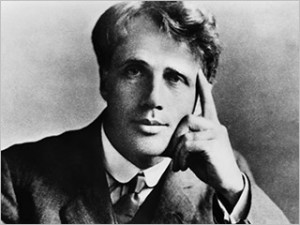 We were excited to learn, on this the fiftieth anniversary of his death, of the new cache of Robert Frost documents that has come to light. The letters, photographs, and recordings come from the personal collection of Jonathan Reichert, a friend of the poet's, and will be on display at State University of New York at Buffalo starting Thursday. Just to whet your appetite, here's Frost reading "The Road Not Taken." It's good, for those of us who have come to take the poem for granted, to take the words out of the yearbook context and rediscover its forthright beauty.