Posts Tagged 'The Grapes of Wrath'
January 3, 2012 | by Aaron Gilbreath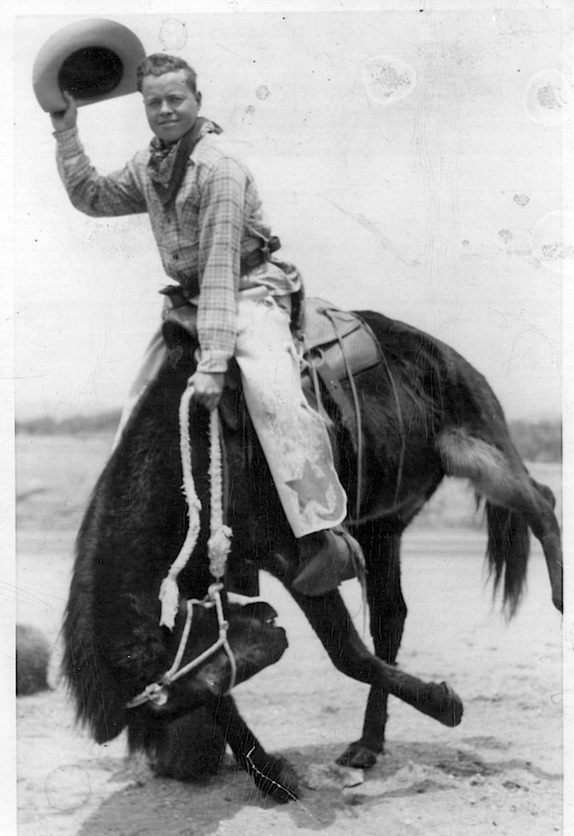 If someone had asked my granddad where he got the chaps in this photo, he might have replied, "At the gettin' place." His speech was rich with colorful phrases. To him, a convincing salesman was someone who "could sell eggs to a chicken," the relationship between a person's actions and character best summarized with "Whatever's in the well comes up in the bucket." And when dismissing someone unsavory, he preferred the placid "Let 'em peck shit with the crows" to a crass "Fuck them." So many of his sayings reflected elements of the hardscrabble, rural world that shaped him.
The gettin' place in this picture is a roadside stand in Apache Junction, Arizona. Largely known nowadays for its scenery and suburbs, back in 1947, Apache Junction was a fringe outpost east of Phoenix with a few cafés and tourist traps along the highway. Signs announced: Postcards! Indian jewelry! Pan for gold! Read More »
August 1, 2011 | by Tracy Daugherty
Joseph Heller's Catch-22 was first published fifty years ago this fall. Heller's biographer, Tracy Daugherty, marks the occasion with a consideration of the author's legacy.
In the early 1970s, during the period he was writing his second novel, Something Happened, Joseph Heller, approaching his fifties, fretted about his health. He was shocked by how bloated he looked in mirrors. The double chins in his publicity photos bothered him. He began working out regularly at a YMCA in the sixties on Broadway in Manhattan, running four miles a day on a small track there. "The Angel of Death is in the gym today," said the Y's patrons every so often. Not infrequently, ambulance crews showed up to cart away, on a stretcher, an elderly man in a T-shirt and shorts who had collapsed while running or doing chin-ups.
While exercising, Heller avoided meeting anyone's eyes. He pursued his laps with grim seriousness. He worried about the slightest ache or twinge—in his lower back, bladder, calves, the tendons of his ankles, or bottoms of his feet. Sometimes, faint vertical pains shot through his chest and up through his collarbone. This was a hell of a way to try to feel better.
In this melancholy spirit (stretching, rolling his arms to ease the needling pains), he squirreled away portions of Something Happened in a locker at the Y, in case fire ran through his apartment or his writing studio, or he keeled over one day.
In the spring of 1974—a fit fifty-one-year-old—he completed the manuscript to his satisfaction and decided to copy it for his agent. He took his teenage daughter, Erica, with him to the copy shop. "I figured if a car hit me, if I got mugged, or if I dropped dead of a heart attack, the manuscript might still be saved," he later told Erica. Read More »