Posts Tagged 'the future'
September 12, 2014 | by Ezra Glinter
In his 1971 novella The Futurological Congress, the Polish science-fiction writer Stanisław Lem describes a group of futurologists who have gathered at the Hilton Hotel in Costa Rica to stave off planetary disaster. Overpopulation and resource depletion are at crisis levels; famine and political collapse are just around the corner. Even before the conference begins, events take an ominous turn. Guerrillas kidnap the American consul and start mailing in body parts, demanding the release of political prisoners. As Professor Dringenbaum of Switzerland explains how humanity will soon resort to cannibalism, rioting breaks out in the streets. In response, the Costa Rican government deploys new types of chemical weapons, intended to make the rebels docile and peace-loving. They induce feelings of empathy and euphoria, and come with names like "Felicitine" and "Placidol." Planes barrage the city with LTN, or "Love Thy Neighbor" bombs.
Among the conference attendees is Ijon Tichy, an unflappable cosmic adventurer with the habit of getting into outlandish scrapes. Having inadvertently received a premature dose of the drugs through the hotel's tap water, Tichy has the foresight to take refuge from the bliss-inducing crackdown in the building's sewer system. Nevertheless, he winds up inhaling a near-lethal dose of psychotropic chemicals and tumbles down a dark rabbit hole of hallucinations. When he finally wakes up in the year 2039, after having been cryogenically frozen for decades, he finds a world where such substances have ceased to be used for crowd control and have become, instead, a way of life.
The novella—masterfully translated by Michael Kandel and recently adapted as The Congress, a part-live action, part-animated movie by the Israeli filmmaker Ari Folman—is more a satire than a poker-faced dystopia. Rather than solving its problems, humanity learns to mask them using comically sophisticated pharmaceuticals. In the "psychemized" future, you can take drugs like "gospelcredendium" to have a religious experience, and "equaniminine" to dispel it. Books are no longer read but eaten; they can be bought at the psychedeli, a kind of one-stop psychem superstore. For a friendly conversation there's "sympathine" and "amicol," for an unfriendly one "invectine" and "recriminol." Even acts of violence and revenge are sublimated into ingestible form.
Folman's movie adopts this premise, but reframes it as a critique of the entertainment industry. Instead of Ijon Tichy, the movie's main character is the actress Robin Wright, who plays a fictional version of herself. At first, studio executives want to scan her to create a digital avatar that will take over all of her roles. Twenty years and a switch to animation later, they want to produce a drug that will enable anyone to "be" Robin Wright, or at least to believe that they are. The Congress itself is a Hollywood bash celebrating the new age of chemical entertainment, rather than an academic conference on humanity's doom. As in Lem's novella, however, this future promises not social and scientific progress, but technological hedonism and senescence. Read More »
July 27, 2010 | by Natalie Jacoby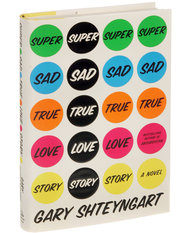 Gary Shteyngart's latest novel,
Super Sad True Love Story
, signals his move out of Soviet territory and into a near-future New York City, where books have no place in a hyper-technological society. Yet, in our conversation a few weeks ago, many of Shteyngart's expressions (such as "the intertube") reveal an innocence he has maintained in our own heavily digitized world. He reflects that now, after having lived with this book for three years, he needs to "retreat to the countryside and live in a pristine environment where the iTelephone doesn't work."
Super Sad True Love Story switches between letters, diary entries, and dialogues. Why did you choose these formats?
Well, you know, it's sort of hard to read an entire book cover to cover these days. Most people just don't come with the same equipment that we used to have. When they look at a book they think, "Oh my God, it's so many pages! What am I going to do? How will I ever get through this?" So, you'll notice the cover of this book is very flashy—it's almost like you want to press parts of it, hoping that something will pop up. So, the insides of the book—the "text" you would call it—have the same kind of approach to it. Everything is mixed up, and different stuff comes at you at different speeds. Just as the reader is about to fall asleep with one kind of format, all of the sudden it changes.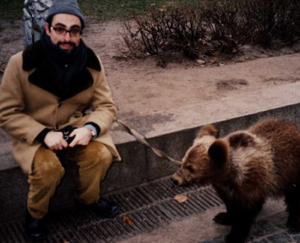 Your new book also features some bizarre clothing trends, especially those Onionskin jeans. What's your assessment of fashion today?
Well, first of all, a couple years ago the pubic bone started making an appearance. I've never seen so many pubic bones! I mean, it's shocking. I know them so well now. Forget the asscrack--that's been around for a while.
After placing two novels in the Soviet Union, why did you move away from that setting for your third novel?
Boy, it's getting tiring! You know? When I was growing up in the Soviet Union, it collapsed. I wrote about that collapse in two books already, but I have an uncanny feeling we're not doing very well here, too. I think I have a sixth sense when it comes to failing empires. That's sort of my specialty. If I were around during the Roman Empire I'd be writing a book a week. I'd be so happy! I love things on the decline because that's really the natural progression of our lives. We're born, we're feisty for the first couple of years, and then the inevitable decline begins. That's what appeals to me—the long slide into oblivion. Read More »