February 17, 2012 | by Sadie Stein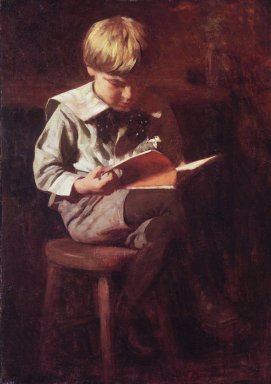 Because of my school's academic structure, I pack up my possessions and move every two to three months, ricocheting between school, home, and New York. In fact, I'm leaving the city this weekend. This kind of transience can be refreshing, but it is also disorienting, and it can make life feel fragmented or compartmentalized. If you could recommend reading material that addresses the issue of the transitory lifestyle, it might make the journey a little easier.
Whether you're looking for seekers (The Razor's Edge), free spirits (On the Road), ramblers (the Little House books) or the Picaresque (Tristram Shandy) there's no shortage of literary traveling companions. Keep in mind that unstable, constantly-relocating parents also make for memorable childhoods, so the memoir section is rife with tales of itinerant life!
What is the funniest book ever written?
I don't feel this is a question one person can answer definitively for all sorts of obvious reasons, although I will say NOT The Ginger Man, since all sorts of people, mostly men, are wont to go into ecstasies about its alleged hilarity. But then, lots of the reputedly uproarious classics have left me cold, so what do I know?
You don't need me to list the "great comic novels" for you—Tom Jones, Tristram Shandy, Lucky Jim … the list goes on. I feel like the "right" answer to this question is something like Ulysses, but I'd be lying if I said it had me in stitches. (Although Mark Twain genuinely has.) Several in the canon get resounding plaudits from my colleagues here: Catch-22 and The Hitchhiker's Guide to the Galaxy are considered comedy classics for a reason.
Says Lorin, "The Tetherballs of Bougainvillea made me laugh longest. London Fields made me laugh hardest (Marmaduke: projectile tears of laughter). Home Land made me laugh loudest. Mark Twain's sketches and the Jeeves books make me laugh most reliably."
Deirdre adds that Sam Lipsyte's The Ask should not be ignored.
As for me, I've mentioned it before, but After Claude was the last book to actually make me laugh out loud. I love Scoop, and early parts of The Pursuit of Love. (Although I find Waugh and Mitford's correspondence funnier than either.) E.F. Benson's "Mapp and Lucia" series has moments of absolute hilarity. Pictures from an Institution should be in there, surely.
Disclaimer: I find certain scenes in Excellent Women genuinely funny, but Lorin said that he didn't laugh once, so.
Have a question for the editors of The Paris Review? E-mail us.
September 23, 2010 | by Giancarlo DiTrapano
From his first collection of stories, Venus Drive, to his most recent novel, The Ask, Sam Lipsyte has consistently penned the best comedic literature of the past decade. In the fall issue, he has returned to the short form and chiseled us out what might be his best story to date. It's your classic tale about a good man with a bad plan. A lot like life, it's a tale of things almost working out. Last year I interviewed Lipsyte about The Ask. This month he let me do it again, this time about "The Worm in Philly."
The hero of your new story wants to write a book about Marvelous Marvin Hagler. Why Hagler?

As the narrator says, why not Hagler? Truth is I've always been a Hagler fan. There were things I left out of the story, like his subsequent career as an action-movie star in Italy, or the rumor that he wouldn't shake hands with white fighters because he refused to touch "white flesh." I used to follow a fighter named Mustafa Hamsho, who lost to Hagler a few times. I like both of those names a lot. Hagler and Hamsho. Hagler's baldness was maybe an homage to Jack Johnson, but it was ominous in a fiercely contemporary way. He was kind of a throwback, but there was also the possibility he was from the future.
I love the "white flesh" thing. I do that too. I want to talk about drugs though. Without answering the first part of this question, why do I love reading about drugs and why do you love writing about drugs? Why are drugs so hard to resist, whether they're on the page or in the pocket?
I'm glad you do that, Gian. That's good.
I'm not sure why you love reading about drugs. Maybe at a certain point the reading high is better than actually doing them? That could be preposterous though. I guess I've written about drugs a good deal because for a time, in my younger days, certain hard substances were the major elements in my life. My movements and decisions revolved around them. I like to pretend it was all some meaningless blur, but it was a very intense and focused time. I had a daily purpose (to get more drugs) that heightened the experience of being alive (a heightening then nullified by the drugs). I felt very alert during the mission phase of the day. Make no mistake, it was a horrible time, but I've always been fascinated by that robotic intensity. Also, it's a way to give your character something to do, and we all know you have to keep those fuckers in motion, or readers might find out they are just constructions in a fiction! I try to make sure the drug-users in my stories aren't acting high. Most of them tend to do drugs to get straight anyway. They are in that awful place. So their interactions might seem slightly off, but mostly these could easily be people not doing dangerous drugs. It's just that occasionally they die from their addictions or else make really bad decisions that lead to more misery. That's where the comedy kicks in. Drugs are hard to resist for some people because they work really well. And then don't. But you find that out later. Read More »