Posts Tagged 'The Algonquin'
March 21, 2013 | by Patrick Monahan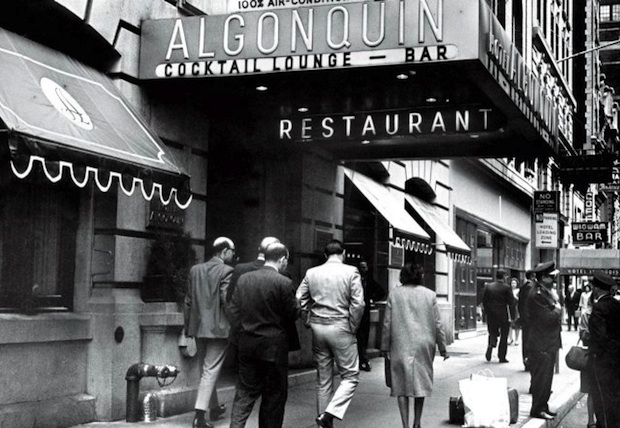 "Sorry, wasn't there a cabaret here?" a British woman asked the waiter. He was laying a napkin on the table and put a glass of white wine on top of it. For a second, I thought the woman was talking to me.
"Oh yes," the waiter said, "this part of the bar used to be the Oak Room. They only put that wall up a couple of months ago." He tapped a panel between her table and mine, then put an identical glass of wine in front of me.
The Algonquin Hotel's Blue Bar lived up to its name: neon tubes snaked clear around the narrow room, reflecting their blue glare on its oak panels and plastic banquettes. Hirschfeld prints covered the walls and Sinatra crooned from a speaker in the ceiling. I wanted to answer the woman, but found myself far away from her. 
"Ladies and gentlemen," a baritone voice announced, "The Oak Room is proud to present … Steve Ross!"
The crowd applauded. Candles flickered inside their glass holders. A curtain at one end of the room parted, and Steve appeared in Noël Coward's emerald smoking jacket. He wove through the tables, making his way to the grand piano. The crowd hushed, and he began to play Porter, Gershwin, and the saloon songs he knew I liked.
"If it isn't the jeunesse dorée!" he beamed at me after the show, shaking hands with people as they filed out of the Oak Room.
"Did you know," he told me when most of them were gone, "that the first Algonquin Round Table was right over over there?" He pointed to a corner of the Oak Room, just on the other side of the door from where we were standing. Waiters were clearing the tables; the baritone in the light booth was pulling on his coat. Alexander Woolcott might as well have been lingering over lunch. Read More »