Posts Tagged 'Terry Eagleton'
April 8, 2013 | by Lucy McKeon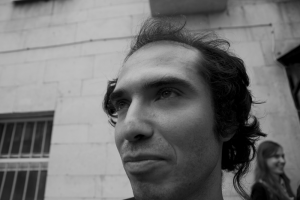 In 2006, a leading Moscow publisher issued Texts Published Without the Permission of the Author, comprised of the works of a well-known Russian poet. Rather than a lawsuit, the book resulted in a literary symposium, accompanied by a debate about the nature of copyright and, finally, the first translation of Kirill Medvedev's works into English. In December 2012, It's No Good: poems/essays/actions—a compilation of the thirty-seven-year-old poet-activist's work—was published, indeed, technically without the permission of the author, by n+1 and Ugly Duckling Presse.
Medvedev, a controversial figure in the contemporary Russian poetry scene, stopped publishing in 2003. He would continue to release poetry, essays, and calls to political action on his Web site, LiveJournal, and Facebook page. But he renounced all rights to his own work. "I have no copyright to my texts," he wrote in Manifesto on Copyright, "and cannot have any such right." He became more deeply involved in leftist activism. Some thought him washed up, a has-been, even crazy. Others were angered by what they deemed a gimmick.
Critical of the post-Soviet liberal intelligentsia, makers of the culture who came to dominate an increasingly booming nineties Russia, Medvedev—who was born in Moscow in 1975—and his work issue directly from the tradition he critiques; his father was a well-known post-Soviet journalist. A decisive moment of separation might be found in his abdication of the most basic literary right. Read More »
April 29, 2011 | by The Paris Review
Five Dials
released their latest issue last evening, but I'm still enchanted by "
A Bouquet to Sybille Bedford
," with an essay by Aliette Martin, Bedford's translator and literary executor. —
Thessaly La Force
I've been racing through The Tale of the 1002nd Night, Joseph Roth's last published novel. Set in pre-WWI Vienna, when "the world was deeply and frivolously at peace," it begins with a fairy-tale visit by the Persian Shah and ends in bankruptcy, alcoholism, and despair. But Roth's basic buoyancy—unless it is that of the translator, Michael Hofmann—makes this sad story a joy to read. —Robyn Creswell
Terry Eagleton's On Evil is a cogent study of a subject about which much is assumed, and little questioned. I often found myself disagreeing with his views, but I appreciated his careful writing, his stylish analysis, and, most of all, his ability to make theory both relevant and exciting. —Rosalind Parry
This Sunday, I read David Levithan's The Lover's Dictionary. The narrator writes nonlinearly about a relationship through definitions for words like aloof and fraught. Here's Levithan with "catharsis": "I took it out on the wall. I LOVE YOU. I LOVE YOU. YOU FUCKER, I LOVE YOU." Is the couple still together? We never find out. —Angela Melamud
Christian Lorentzen on Martin Amis's move to Brooklyn. And rambling with W. G. Sebald in East Anglia. —T. L.