January 7, 2011 | by The Paris Review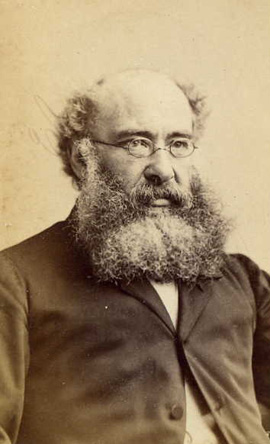 Over the break I read what is now my very favorite Trollope novel, and the one I was saddest to finish: Framley Parsonage. I'm coming down off it with DeLillo's Running Dog, Henry Petroski's history of the bookshelf, and The Notebooks of Malte Laurids Brigge. —Lorin Stein
I watched Jan Švankmajer's Little Otik and Alice in one night; both films are hilarious and nightmarish. Švankmajer is best known for his use of stop-motion and his exaggerated and bizarre sound editing, which reminds me a bit of David Lynch. I love the dialogue of his characters, especially that of the young girl in Little Otik, Alžbětka, who is perfectly vulgar. —Natalie Jacoby
I have been enjoying William Trevor's Selected Stories for that moment of calm at the end of each day. I'm about a quarter way through the enormous book, but my favorite story is still the first, "The Piano Tuner's Wives." It begins: "Violet married the piano tuner when he was a young man. Belle married him when he was old. There was a little more to it than that, because in choosing Violet to be his wife the piano tuner had rejected Belle, which was something everyone remembered when the second wedding was announced." —Thessaly La Force
July 29, 2010 | by Angus Trumble
This is the second installment of Trumble's culture diary. Click here to read part 1.
DAY FOUR
5:30 A.M. I have been mining the poet, critic, journalist, playwright, sometime minor colonial official Richard Henry Horne (1802–1884). He was one of the most picturesque, occasionally lionized but accident-prone literary figures in Victorian Britain. According to his biographer Cyril Pearl, Horne "finished a wild and adventurous career as a rather pathetic, rather tiresome, very poor old man, living in two shabby rooms of a London apartment house, still determined, in his eighties, to be a distinguished man of letters. Forty year before, no one would have questioned his claim to the title. He had been extravagantly praised by Poe, who ranked him with Milton, and enthusiastically praised by Elizabeth Barrett and Robert Browning, by Carlyle and G. H. Lewes, by Leigh Hunt and Douglass Jerrold, and many other of his contemporaries. Critics spoke of him in the same breath as Browning or Tennyson. He was, for many years, one of Elizabeth Barrett's most valued friends; Dickens, with whom he worked, had a warm regard for him; he was the patron, almost the discoverer, of Meredith…No writer ever affirmed the dignity of literature more, or himself behaved with less dignity." Quite so.
1:30 P.M. The reason for my present interest in "Hengist" or "Orion" Horne is that I think he was the conduit through which the term "art for art's sake" migrated from the neighborhood of French criticism in the 1830s (when in England "l'art pour l'art" was generally treated with disdain) and crash-landed in the circle of Algernon Charles Swinburne, Rossetti et al. during the 1870s, thereby laying a sort of foundation of Aestheticism in British art and letters. Horne was obviously insane. In 1873 he entertained the idea of representing Her Brittanic Majesty as consul-general in Tokyo, and duly sent to Mr. Gladstone in Downing Street, and to the Meiji Emperor complimentary copies of his privately printed Ode to the Mikado of Japan. Even if your command of the English language is surefooted, the text is truly bonkers—so goodness knows what Emperor Mutsuhito made of it.
There was a Dome, like midnight

Lit up by blood-red lightning!

And deep within

A demon din,

With many a sight

Of ghastly horror whitening

Faces and Forms, e'en while the flames were brightening!

The screams of those wild massacres

Long echoed down the shuddering years;

And yet we know the self-same creed

For which those proselyting [sic] martyrs died,

Hath caused unnumbered victims thus to bleed

Before its symbols deified1!...

To cover against the possibility that it might just be good, the Emperor sent back two lavish volumes of Japanese poetry. An invitation to tea with His Imperial Majesty's Ambassador to the Court of St. James's was thrown in also. To His Excellency's dismay Horne promptly accepted it. Read More »
Annotations
Horne seemed to feel that this evocation of the Japanese flag and the long imperial tradition of military prowess would come across as complimentary.