April 23, 2012 | by Daisy Atterbury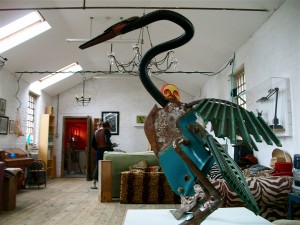 Children are posing near Damien Hirst's large intestine. A young couple is engaged in a shoulder rub, the recipient with a bracing hand on what may be the sigmoid colon. Upstairs, caterers put flowers on round tables, and cameramen survey Tate-goers ignoring For the Love of God encased below in a black box. In the gift shop, The Incomplete Truth anamorphic cup and saucer is on sale for £2.50.
Between the Tate and Emily Mayer's Norfolk studio is a gap of British countryside that from a train car feels like an hour-and-a-half stretch of live cows. I sit down and immediately hear that Emily hates instant coffee and loves rats. The Norfolk Wildlife Trust celebrates the area's presence of weasels and more unusual species, but Emily prefers dogs to Chinese water deer. She has several dogs, some animate, some either frozen or cast in resin.
"The electricity board are coming at 8 A.M. tomorrow to cut trees," she had written in an e-mail the night before, "and our power will be off all day. I do have a generator in our woodland cabin, so maybe I could drag that in." It turns out that the water is out with the power, and the phones don't work. We still manage to have coffee.
August 12, 2011 | by Lorin Stein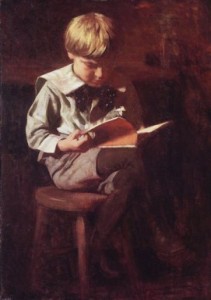 You may have heard by now that there's a Paradise Lost movie in the works, starring Bradley Cooper as the Devil—WTF?! Do you think film adaptation is a good or bad thing for books, particularly ones with wide recognition to begin with? —Liesel
WTF indeed. The two most famous complaints about Paradise Lost are that it's really, really long (Edgar Allan Poe) and that it's weak on visuals (T. S. Eliot). If ever a blind poet needed the magic touch of Ridley Scott, that poet was John Milton. But I'm the wrong person to ask—I've been holding out for the movie version ever since tenth grade.
Are there any books coming out this fall that you're particularly excited about? —Leo
Lots—and the stack keeps growing. Two days ago, for example, my sister gave me the galleys of a first novel, Various Positions, by the young Canadian writer Martha Schabas, all about the sexual awakening of a ballerina. Anna tells me I'm going to love it (no matter that I skipped Black Swan) ... But sticking just to novels that I've actually read: in these pages I've already mentioned Chad Harbach's debut, The Art of Fielding, Nicholson Baker's sweet-natured book of smut, House of Holes, and Jean-Philippe Toussaint's novella The Truth About Marie. Readers of The Paris Review proper know Ben Lerner as a poet; his first novel, Leaving the Atocha Station, is about ... well, it's about a young poet on a fellowship in Madrid, but I enjoyed it so much I read it twice (and laughed out loud both times). I keep going back to Ann Beattie's Mrs. Nixon, which is fascinating and only sort of a novel; it veers from fiction into biographical essay, into essay on the art of fiction. Last night I stayed up late—much later than I meant to—reading Spring, an addictively earnest novel about English yuppies in love, by David Szalay. Finally, Jeffrey Eugenides's novel The Marriage Plot has what must be the most seductive first sentences of the season (seductive, anyway, to a certain micro-demo, which I suspect may include certain readers of the Daily):
To start with, look at all the books. There were her Edith Wharton novels, arranged not by title but by date of publication; there was the complete Modern Library set of Henry James, a gift from her father on her twenty-first birthday; there were the dog-eared paperbacks assigned in her college courses, a lot of Dickens, a smidgen of Trollope, along with good helpings of Austen, George Eliot, and the redoubtable Bronte sisters. There were the Colette novels she read on the sly. There was the first edition of Couples, belonging to her mother, which Madeline had surreptitiously dipped into back in sixth grade and which she was using now to provide textual support in her English honors thesis on the marriage plot. There was, in short, this mid-sized but still portable library representing pretty much everything Madeline had read in college, a collection of texts, seemingly chosen at random, whose focus slowly narrowed, like a personality test, a sophisticated one you couldn't trick by anticipating the implications of its questions and finally got so lost in that your only recourse was to answer the simple truth. And then you waited for the result, hoping for "Artistic," or "Passionate," thinking you could live with "Sensitive," secretly fearing "Narcissistic" and "Domestic," but finally being presented with an outcome that cut both ways and made you feel different depending on the day, the hour, or the guy you happened to be dating: "Incurably Romantic."