Posts Tagged 'T. E. Lawrence'
February 22, 2012 | by Meredith Blake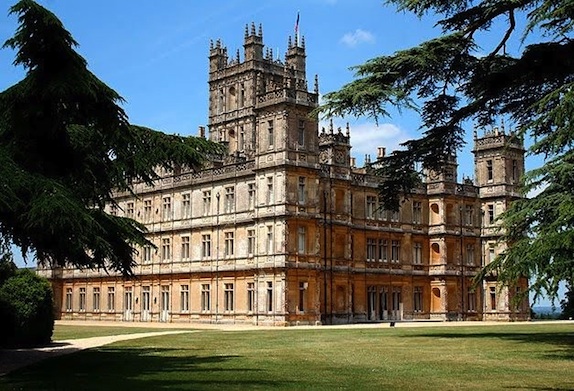 Let it be known that Lady Fiona Herbert, the eighth Countess of Carnarvon, occasionally answers her own phone. When I call the Countess's office to discuss her new book, Lady Almina and the Real Downton Abbey, I am unusually anxious; it's not every day I speak to a member of the British aristocracy. "Hello?" answers a startled-sounding voice. I nervously ask if Lady Carnarvon is available. "This is Lady Carnarvon," the voice replies, erupting into hearty laughter—which, happily, is not directed at me. The Countess had been reaching for the phone just as it rang and was caught off guard. "I'm completely useless as a receptionist," she says.
For a woman who lives at Highclere Castle, one of Britain's most impressive "family piles," as well as the primary setting of the spectacularly popular PBS costume drama Downton Abbey, Lady Carnarvon is surprisingly warm and unpretentious.
She projects an image of slightly disheveled glamour: her household is not a well-oiled machine, but something more akin to a living archaeological site, where one might just discover a decades-old scrapbook while foraging through an out-of-use desk drawer. "We found a staircase recently. That was quite exciting," she tells me.
Downton Abbey isn't Highclere's first brush with fame—parts of Eyes Wide Shut were filmed there, and British tabloid curiosity Jordan celebrated her 2005 wedding at the castle, arriving via a pumpkin-shaped carriage—but the phenomenal success of the series has thrust the Carnarvon family's ancestral home into the spotlight like never before. It's also spawned a cottage industry of Downton Abbey tie-in books, including two competing biographies about Almina, the colorful and controversial fifth Countess of Carnarvon. Read More »
June 3, 2011 | by The Paris Review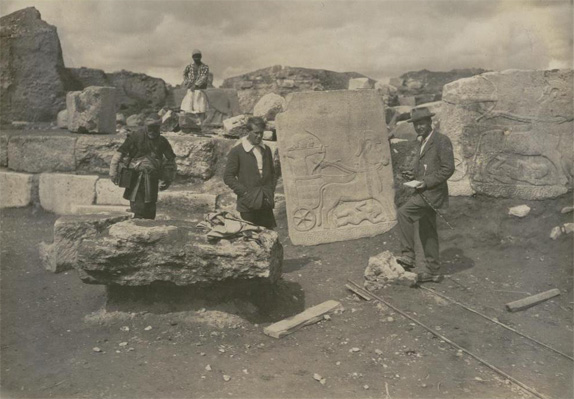 A previously unpublished photograph of T. E. Lawrence was made available for sale this week at an auction house in Shropshire. The image, taken in 1912, shows a youthful Lawrence (in a casual coat and an oversize collar) at an archaeological dig in Tell Halaf. I took news of the photo as an excuse to thumb through Lawrence's Seven Pillars of Wisdom—an all-time favorite of mine—where I was greeted by one of my favorite passages in all of English literature: "All men dream: but not equally. Those who dream by night in the dusty recesses of their minds wake in the day to find that it was vanity: but the dreamers of the day are dangerous men, for they may act their dream with open eyes, to make it possible. This I did." —Stephen Andrew Hiltner
I was sick in bed for the long weekend and spent my time veering rather oddly between the new edition of Diana Vreeland: An Illustrated Biography by Eleanor Dwight (basically the most glorious fashion porn in existence) and M. Owen Lee's fascinating Wagner: The Terrible Man and His Truthful Art. I like to think that Vreeland, if not Wagner, would have appreciated the combo. (And incidentally, if you haven't seen the very bizarre A Rage to Live—a 1965 vehicle about a nympho Suzanne Pleshette—it's worth adding to your Netflix queue for your next sick day.) —Sadie Stein
Kelefa Sanneh on Earl Sweatshirt. Alec Wilkinson on the dearly departed Gil Scott Heron. —Thessaly La Force
I'm a little surprised by my own selection, as it's not my usual fare, but when a copy of Peter Sloterdijk's Neither Sun Nor Death appeared on my desk, I cracked it open and was hooked. He's an appealing and exciting thinker, not least for his "leap out of old-European melancholy and the German maso-theory cartel." —Nicole Rudick
Today, Jean-Luc Godard's latest movie, Film Socialisme, opens in New York. I first saw the film last fall, and was mesmerized by its polylinguistic structure and "Navajo English" subtitles. I've been eagerly waiting since then to watch it a second time and, in preparation, have been reading Richard Brody's insightful coverage—on the thematic and symbolic significance of the gold, and on Jewish characters and Godard's own paranoia—revealing the film to be his "most humane, internationalist, [and] multicultural." —Natalie Jacoby
Sara Breselor's Idiom piece on lesbian teen fiction is poignant and funny. —S. S.