Posts Tagged 'surrealism'
November 14, 2012 | by Sadie Stein
In January, Open Culture ran this terrific tour of Salvador Dalí's house on the Costa Brava, where he lived from 1930 to 1970 and hosted much of the modern world. As author Joseph Pla described it,
The decoration of the house is surprising, extraordinary. Perhaps the most exact adjective would be: never-before-seen. I do not believe that there is anything like it, in this country or in any other…. Dalí's house is completely unexpected…. It contains nothing more than memories, obsessions. The fixed ideas of its owners. There is nothing traditional, nor inherited, nor repeated, nor copied here. All is indecipherable personal mythology…. There are art works (by the painter), Russian things (of Mrs. Gala), stuffed animals, staircases of geological walls going up and down, books (strange for such people), the commonplace and the refined, etc.
May 1, 2012 | by Rebecca Sacks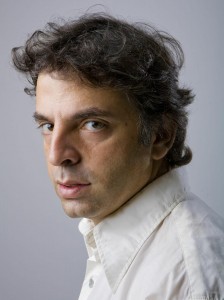 In 2006, the great book-blurber and novelist Gary Shteyngart called Etgar Keret's The Nimrod Flipout "the best work of literature to come out of Israel in the last five thousand years—better than Leviticus and nearly as funny." Keret may indeed be the most loved and widely read Israeli writer working today. He is known for his very short short stories, which are often described as "surreal" and "absurd." It's certainly the case that they do not adhere to the laws of the physical universe.
In his most recent collection, Suddenly, a Knock at the Door (published this month by Farrar, Straus and Giroux), a talking fish grants wishes; a woman unzips her boyfriend to reveal the German gentile inside; a middle-aged man is kidnapped and taken to his childhood. But at the heart of Keret's writing is a deep compassion. His characters may be enmeshed in paradoxes unique to Israel—with its fraught borders, fragmented populations, and newly ancient language—but it's always their humanity that shines through.
Keret is also a filmmaker. With his wife, Shira Geffen, he directed Jellyfish (2009), which won the Palme d'Or at Cannes, and has had his work adapted to film, including Wristcutters: A Love Story (2006). Over the course of two weeks, during which his father passed away from cancer (he has written about his father for Tablet), Keret generously corresponded over e-mail for this interview.