November 29, 2012 | by Joe Kloc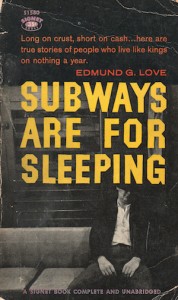 Every now and then I come across someone on the subway who defies easy categorization. I remember, for instance, a man who boarded the 3 train in Brooklyn a few years ago wearing military fatigues and a bandolier packed with little glass bottles of liquids. "Who is man enough to buy my fragrances?" he shouted. (When one rider replied that he wasn't sure, the man responded, "Are you man enough to kill a hooker in Moscow with a crowbar?") More recently, there was a man on the uptown 6 wearing a pair of oversized New Year's glasses—the ones where the 0's serve as eyeholes—who played atonal jazz on his saxophone and asked for no monetary compensation in return. I could keep going, but no doubt anyone who has lived in a city for any length of time has their own mental list of these self-styled subterranean eccentrics, grouped together not so much by any particular characteristic other than the fact that they seem only to exist underground.
May 1, 2012 | by Blake Eskin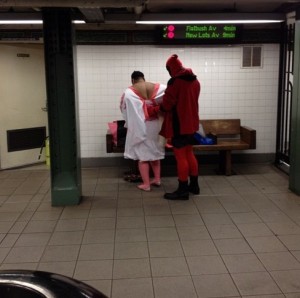 Working with words is how I've made my living, but becoming a photographer has been a longtime fantasy, fed by the vinaigrette smell of the chemistry in the college darkroom, the monographs in the library upstairs, and all the museums and galleries and bookstores I've visited in the decades since. The more amazing work I saw, the more shy I became about picking up a camera, so this fantasy was sublimated into writing about photography, even writing about writing about photography.
The pictures that speak to me most are street photographs. I wanted to be a surreptitious chronicler of urban life, like Henri Cartier-Bresson or Helen Levitt or Elliott Erwitt. Street photography took off with the Leica, a groundbreaking portable camera introduced in 1925 that used the same 35-mm film manufactured for motion pictures. By the time I became aware of street photography, its golden age—its culturally decisive moment, so to speak—was behind us. To practice street photography at the end of the twentieth century seemed like nostalgia.