Posts Tagged 'studio visit'
February 22, 2011 | by Stephanie LaCava
The artist Joe Bradley has his studio in an old pencil factory in Greenpoint, Brooklyn. There is no buzzer. You must call his cell phone to be let in, and then ride a manual elevator to the white concrete space where he works on the fifth floor. Bradley was part of the 2008 Whitney Biennial and was recently featured in two solo shows. I visited the thirty-five-year-old artist to talk about his evolving process as a painter.

This building is called the Pencil Factory. When you go outside, there are these giant pencils on the wall. It's got a lot of light, and it's quiet and big enough. You can have six or seven paintings up at the same time and don't have to shift them around.
I don't go into painting with any kind of plan. The ones I am happiest with I have no idea how I arrived at. The best ones are always a real surprise. For most of the paintings I use unprimed canvas and oil paint. I like drawing when the canvas is on the floor, and then I'll pin it up and see what it looks like on the wall. Sometimes, I turn it over and work on the other side. The nature of the oil paint is that it kind of bleeds through the canvas so you have some sort of residual marks seeping through from the other side and influencing the composition.
February 14, 2011 | by Thessaly La Force
The artist Lawrence Weiner lives on a quiet street in the West Village, in what was once an old laundromat built in 1910 and is now an unobtrusive five-level town house designed by the firm Lot-Ek. You may recognize some of the architecture: Lot-Ek is often cited for it inventive reuse of prefabricated objects (like shipping containers) and other industrial materials. In fact, the penthouse floor of Weiner's home is built from discarded truck bodies. The floor below is the bedroom, the floor below that houses Weiner's archives, and the first floor is the kitchen and dining room. At the basement level, Weiner keeps his studio, where he works. Not long ago, I stopped by to take photographs of his home and talk.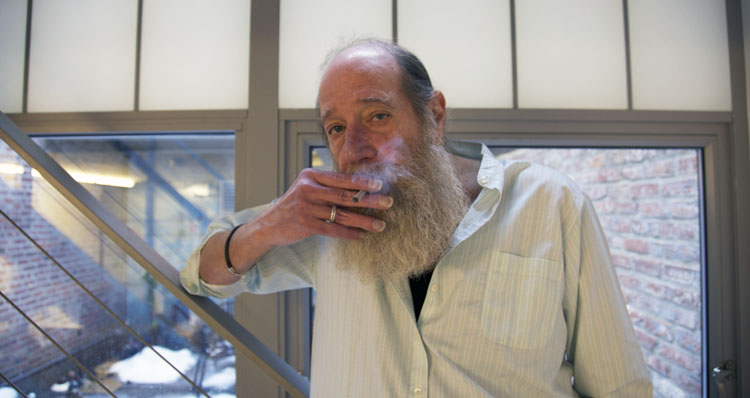 I didn't come from a background that had any idea about what contemporary art was, it was not anti or pro, it had nothing to do with it. I do remember something my mother said when I was sixteen. I was going off to college, and I said, "I think I'm going to be an artist, not a professor of philosophy." They all assumed I would be a professor because I'm good at logic, and she looked at me and she said, "Lawrence, you'll break your heart." And I said, "Why?" And she said, "Art is for rich people and women."