Posts Tagged 'Steve Almond'
November 11, 2011 | by The Paris Review
"There are two basic motives living within all readers. They want to spend time in the presence of a great mind. And they want their hearts awakened." That's Steve Almond in Ecotone on the early novels of Don DeLillo. Two other pieces kept me up late with the new issue: Jonathan Lethem on the perils of self-regard, plus a swinging little poem by Jaswinder Bolina, "In Another Version of the Afterlife," which begins, "I regret some of the aftermath but none of the choices I made / during my tenure among the living, which must be / what the villain feels after being villainous." Two lines later we're lying beside matadors and pornographers "groggy and unsleeping in ornate haciendas." I don't know if my heart was awakened, but Bolina did keep me awake. —Lorin Stein
The Hare with Amber Eyes is a family saga, a study in art history, and an overview of the European Jewish experience all in one. Edmund de Waal uses an inherited collection of netsuke carvings to explore the legacy of the Ephrussis, once one of Europe's most prominent Jewish families. The family stuff is great, but what I'm enjoying particularly is the way the author, a prominent ceramicist, conveys the tactile. (And, incidentally, how skillfully he describes all these tiny things with a minimum of diminutives—a skill in itself!) —Sadie Stein
In an interesting juxtaposition of writing styles, I began reading Bertrand Russell's amazing Autobiography only to stop partway when I picked up Atlanta-based rapper T. I.'s debut novel, Power & Beauty. I can't read either of them quickly enough, and, needless to say, my heart is divided. —Natalie Jacoby
Though I'm not writing a novel, I've been vaguely following The Guardian's How to Write Fiction series. But were I writing a novel, I'd surely tack Geoff Dyer's sublimely simple lesson—that limitations, yours and everyone else's, can prove as enriching as your strengths—above my work desk. —Nicole Rudick
In the Presence of Absence, by Mahmoud Darwish, is a moving reflection—part autobiography, part lyrical elegy—on the question that has always been at the center of his work: "What does it mean for a Palestinian to be a poet and what does it mean for a poet to be a Palestinian?" This is one of Darwish's last writings, and it bears the hallmarks of his late style: uncompromising difficulty, surprise, and summation. —Robyn Creswell
Here are the sentences I can't get out of my head from "Hadji Murat." This is about ten pages from the end. Three quarters through. Just at a moment when you believe that Hadji Murat is about to do an heroic thing, he's about to wake up his men, before dawn, to prepare them for an escape by horseback. He's living among the Russians, to whom he has lately sworn loyalty. He has even fallen in love with one of their women. He doesn't actually want to betray them, he just can't let the fucking Shamil hold his family captive any longer. He has to rescue them or die trying. It's his only way to keep his whole idea of himself and the honor of his people from shattering. Politics are irrelevant. And everything that's happened so far in the story leads you to suspect that he'll do it, that he knows how to do it. But in fact within hours he'll be shot down like a dog. And this is what Tolstoy does, to signal the pivot. Two sentences. Nightingales are singing.
Hadji Murat was so deep in thought that he did not notice he had
tipped the jug and water was spilling from it. He shook his head at
himself and went into his room.
[Gasp!]
It's so perfect, you hear it only stethoscopically, but you do hear it. He walks away from the water jug to his death.—John Jeremiah Sullivan
July 6, 2011 | by Anna North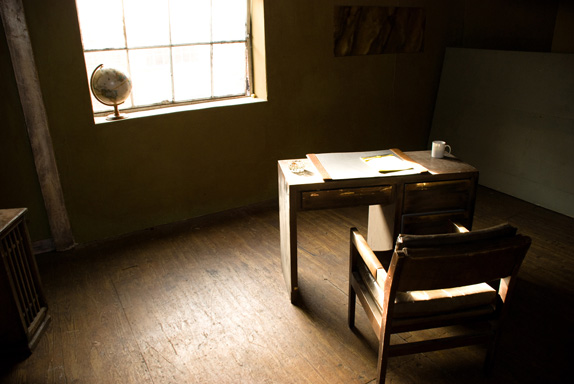 Anyone who wants to study writers' idiosyncrasies need look no further than their acknowledgments. One contemporary author thanks her therapist, another his probation officer, a third someone he calls the "Infamous Frankie G." In the backs of books I've found shout-outs to the Ship Manager of HM Frigate Unicorn; a book on Satanism; and an ice hotel. But alongside the quirky is also the heartfelt. I've encountered declarations of love—"my children, my jewels"; "without you, I'd be sunk"; "not only the most supportive parents a writer could ask for but the most loving, kind, and inspiring people I know." One set of thank-yous closes with the code IALYAAT, which I hope means, "I Always Love You At All Times."
Acknowledgments also offer an all-too-rare view of the writer as actual human being. We often think we're seeing the author's real self when we read her fiction, but as any author who's ever been asked what happened after she fled her family of international superspies and threw in her lot with a group of itinerant circus performers knows only too well, this is a delusion. The acknowledgments at the back of a novel are tantalizing because they're often the only true thing amid a pack of lies. And at the end of a really great book, how wonderful to recognize that it was written not by a monolith or a beam of white light or the manifestation of the goddess Athena, but by a living, breathing person who remembered to thank her agent.