Posts Tagged 'Stephen Dedalus'
June 16, 2014 | by Daniel Genis
Celebrating Bloomsday in prison.
The man I affectionately termed Odysseus, though never to his face, was sixty-five and ailing. He was Philip Rubinitz, a onetime actor who had served about twenty years by then for the crime of stabbing his best friend through the heart with an antique SS dagger. Nevertheless, he was the facility rabbi's clerk. His liver was failing and his back hurt, but he took laps with me around the yard of Green Haven Correctional Facility, observing our simulated Dublin through cataracts in his eyes. It must have been hard for him to keep up with my much younger legs, but he tottered around our Nightown seeking out a way home to his long-lost wife with the same fervor that Leopold Bloom had. His parole date was still five years away. I followed around full of the overconfidence and energy of youth and insecurity, much like Stephen Dedalus. It was June 16, several years ago now, and little did Rubinitz know that he was helping me celebrate Bloomsday in the yard.
After I'd been convicted, my father had said, "Good. You'll finally read Joyce." But it took a few years inside to finally come to it. Having initially avoided Ulysses, my mind was blown when I finally gathered the fortitude to read it—the scales fell from my eyes, and from then on I decided I had to celebrate Bloomsday with the rest of the converts.
None of whom, it seemed, were anywhere near me. Working as a prison librarian, I had seen a few men attempt A Portrait of the Artist, but our edition of Ulysses always stood on the shelf gathering dust. Grim, thick, and foreboding, it was too imposing in reputation for even the most ambitious of convicts. Finnegans Wake wasn't available at all. The civilian librarians knew better. Read More »
June 27, 2011 | by Jonathan Gharraie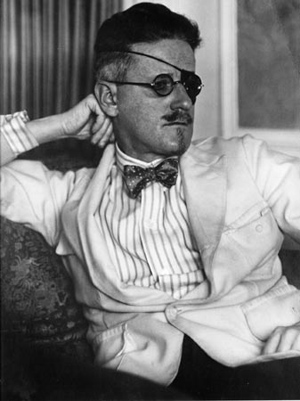 Exuberantly marked across the globe, Bloomsday celebrates the single day on which James Joyce set Ulysses, his epic adaptation of The Odyssey, which also happens to be the day of his first successful rendezvous with his future wife, Nora Barnacle. Each chapter of the novel corresponds to an episode in the daily life of one of the book's three protagonists as they move around Dublin in the summer of 1904: Stephen Dedalus, the frustrated artist as a young man; Leopold Bloom, the Jewish everyman; and Molly Bloom, his profoundly sensual but unfaithful wife.
Immodesty on such a scale is rarely justified, but Joyce was entitled to make his claims on posterity since we don't just remember his ambitions, we read what they achieved. In his influential book The Intellectuals and the Masses, John Carey argued that while "one effect of Ulysses is to show that mass man matters, that he has an inner life as complex as an intellectual's," the novel's density works to "rigorously exclude people like Bloom from its readership." I feel uncomfortable with the implication that writing sympathetically about "mass man" means writing for him, perhaps because I can't quite banish the sense that I might have more than a little of him in me. But to properly defend Ulysses against the charge that it is deeply and treacherously unreadable, you cannot avoid calling yourself to the stand. Martin Amis baldly posed the question, "Who curls up with it?" And writing on this blog last year, Peter Terzian elected to take Ulysses on a vacation, reasoning that the book affords "the kind of pleasure to be found in difficulty." I agree and would also subscribe to his method of consulting guides to Ulysses on a preliminary read, before trying to do without them for a second attempt immediately after. But I wanted to push things further still, to see just how much pleasure could be derived from the second most difficult novel in the language: to engage in some omphalos-gazing extreme reading.