Posts Tagged 'Spring 2014'
April 15, 2014 | by Dan Piepenbring
Zadie Smith's story "Miss Adele Amidst the Corsets" appears in our latest issue, and we're delighted to announce that, as of today, you can read it online in its entirety. But "Miss Adele" won't be gracing the Internet in perpetuity; it's only available while our Spring issue is on newsstands. Subscribe to The Paris Review and you'll have constant, round-the-clock, 24/7/365 access to this story and a wealth of others, anytime, anywhere, anyhow—digitally, in print, and perhaps in media yet to be invented.
"Well, that's that," Miss Dee Pendency said, and Miss Adele, looking back over her shoulder, saw that it was. The strip of hooks had separated entirely from the rest of the corset. Dee held up the two halves, her big red slash mouth pulling in opposite directions.

"Least you can say it died in battle. Doing its duty."

"Bitch, I'm on in ten minutes."

"When an irresistible force like your ass … "

"Don't sing."

"Meets an old immovable corset like this … You can bet as sure as you liiiiiive!"

"It's your fault. You pulled too hard."

"Something's gotta give, something's gotta give, SOMETHING'S GOTTA GIVE."

"You pulled too hard."

"Pulling's not your problem." Dee lifted her bony, white Midwestern leg up onto the counter, in preparation to put on a thigh-high. With a heel she indicated Miss Adele's mountainous box of chicken and rice: "Real talk, baby."
Read the whole story.
March 3, 2014 | by Dan Piepenbring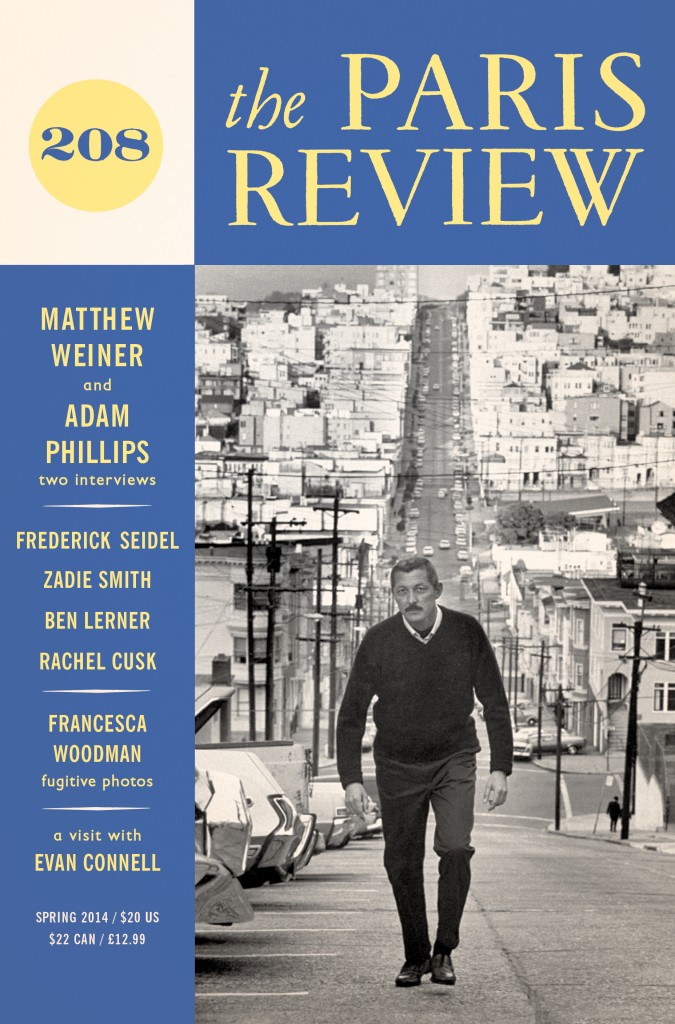 Our new Spring issue is full of firsts. That fellow on the cover is Evan Connell, whose first novel, Mrs. Bridge, originated as a short story in our Fall 1955 issue.
Then there's our interview with Matthew Weiner, the creator of Mad Men—the first Art of Screenwriting interview to feature a television writer. Weiner discusses the influence of T.S. Eliot, John Cheever, Alfred Hitchcock, and The Sopranos on his work:
Mad Men would have been some sort of crisp, soapy version of The West Wing if not for The Sopranos. Peggy would have been a climber. All the things that people thought were going to happen would have happened … The important thing, for me, was hearing the way David Chase indulged the subconscious. I learned not to question its communicative power.
And in the Art of Nonfiction No. 7, Adam Phillips grants us our first-ever interview with a psychoanalyst; he discusses not just his writing but his philosophy, and the importance of psychoanalysis:
When people say, "I'm the kind of person who," my heart always sinks. These are formulas, we've all got about ten formulas about who we are, what we like, the kind of people we like, all that stuff. The disparity between these phrases and how one experiences oneself minute by minute is ludicrous. It's like the caption under a painting. You think, Well, yeah, I can see it's called that. But you need to look at the picture.
There's also our first story from Zadie Smith; fiction from Ben Lerner, Luke Mogelson, and Bill Cotter; and the second installment of Rachel Cusk's novel, Outline, with illustrations by Samantha Hahn. Plus new poems by John Ashbery, Dorothea Lasky, Carol Muske-Dukes, Geoffrey G. O'Brien, Nick Laird, and the inimitable Frederick Seidel, who will be honored with the Hadada Award next month at our Spring Revel.
And a portfolio of previously unpublished photographs by Francesca Woodman.
It all adds up to an issue sure to put a spring in your step.