Posts Tagged 'Solo Faces'
April 12, 2011 | by J. D. Daniels
Our Spring Revel is tonight, April 12. In anticipation of the event, The Daily is featuring a series of essays celebrating James Salter, who is being honored this year with The Paris Review's Hadada Prize.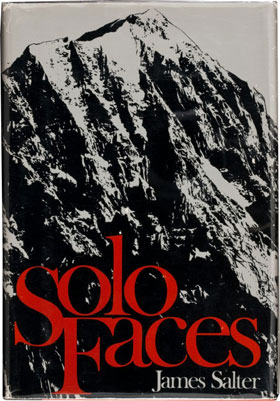 Imagine: there is a man who likes to climb mountains. It's the only thing he likes. Of course he likes women, too, but he won't put them at the center of his life. "I'm not really a great climber," he says, "I'm not that talented." He just loves it more than anyone else does, or can. But he isn't climbing. His name is Vernon Rand, and he's bumming around, roofing, picking up work out in Los Angeles.
And then one day, playing father to his girlfriend's twelve-year-old son, he encounters his old climbing companion, Jack Cabot. That they are lost brothers is admitted outright, but not that Cabot is Rand's animating force, prophet, bird or devil, tempter sent.
As for Rand, he had had a brilliant start and then defected. Something had weakened in him. That was long ago. He was like an animal that has wintered somewhere, in the shadow of a hedgerow or barn, and one morning, mud-stained and dazed, shakes itself and comes to life. Sitting there [with Cabot], he remembered past days, their glory. He remembered the thrill of height.
That's all it takes, Cabot's tapping on the door. That in Rand which loves the mountain stirs.
There was something he had to tell her. He was leaving, she said. She could hardly hear him.

"What?"

He repeated it. He was going away.

"When?" she asked foolishly. It was all she could manage to say.

"Tomorrow."

"Tomorrow," she said.