October 16, 2014 | by Dan Piepenbring
INTERVIEWER

I wonder if you could talk a little bit about your life as a gay man.

CARSON

It's been a somewhat checkered career as a gay man. I was never totally successful. I think it started in high school, when in grade ten or eleven I developed a fascination with Oscar Wilde. Some of my friends shared this fascination so we used to dress like Oscar Wilde and memorize his aphorisms and construct conversations in the lunchroom, as if we were Oscar Wilde and his friends.

—Anne Carson, the Art of Poetry No. 88, 2004
I also had an early fascination with Oscar Wilde, though mine hasn't, to my knowledge, led to an exciting double life. In high school, as I read through Wilde's plays and then some of his prose, I came to recognize a pattern: his characters were always flinging themselves onto sofas. That was the only word Wilde ever used for it, fling, and he used it inordinately, constantly; the more I looked for it the more it turned up. No one in Wilde's domain, it seemed, could get any thinking or moping done without first flinging oneself onto the nearest possible surface—cushioned, ideally, but not necessarily—and lighting a cigarette or bursting into tears. Over and over again, his lords and ladies had no recourse but to fling. They never pitched, cast, heaved, hurled, or tossed.
I didn't object to this, as melodramatic as it was. In fact part of me aspired to such melodrama: I imagined that in adult life I would be confronted with one impasse after another for which the only cathartic response would be to fling myself onto a couch, weeping, smoking, or both. I was looking forward to it—if anything, I disappoint myself today with how rarely I'm compelled to do flinging of any kind. Little did I know that, as a teenager surging with hormones, I was at peak flinging age, with my best flinging days right there for the taking.
To this day, though, I associate the verb with Wilde; he left his mark on it, or it left its mark on him. Since today's his birthday, I found his collected works online and made sure I hadn't been deluding myself. Lo and behold, an amateurish concordance confirms that fling is everywhere. Herewith, then: your comprehensive guide to flinging in Wilde. Consult it in moments of emotional strife, perhaps just before or after your own bouts of flinging, and know that you are not alone. Read More »
March 26, 2014 | by Sadie Stein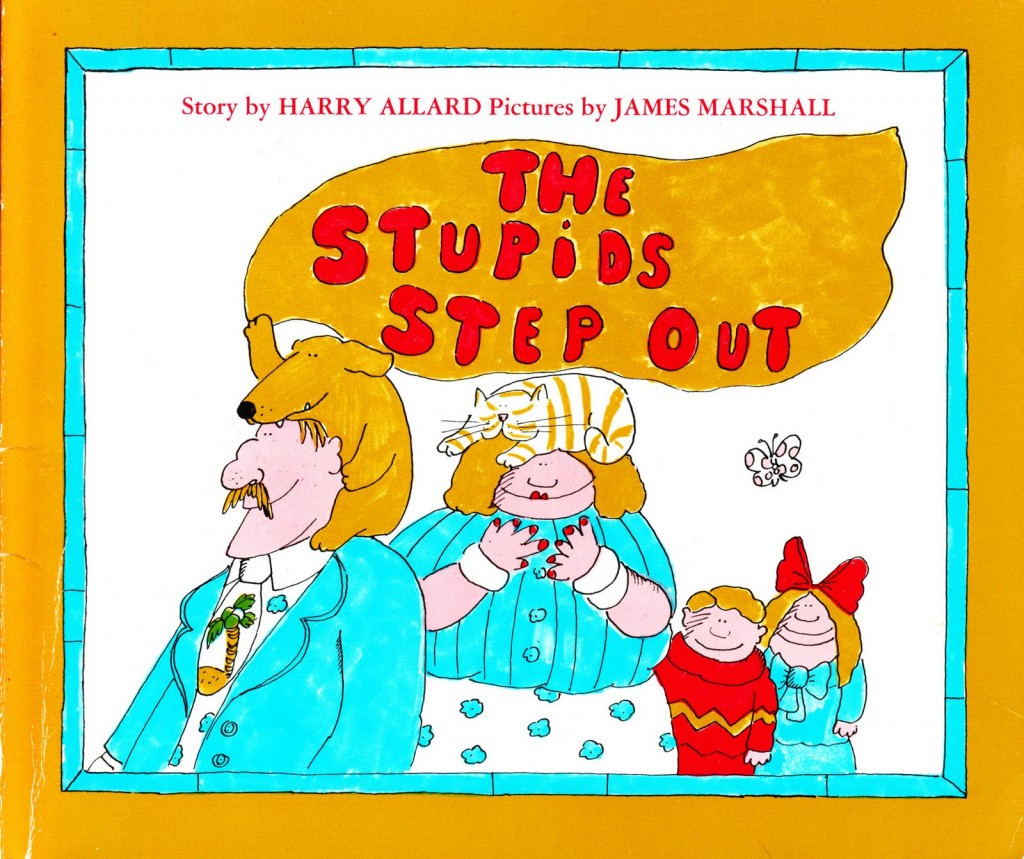 Do people still read The Stupids, that classic series of children's books written by Harry Allard and James Marshall in the seventies and eighties? They must, right? They're too good. Making fun of fools may not be officially acceptable these days, but few books are so perfectly calibrated to a child's sense of humor. And I don't imagine most children are in any danger of confusing the Stupids' aggressively literal naïveté with real-life intellectual deficits. As the School Library Journal opined in a starred review of The Stupids Step Out, "Even youngest listeners will laugh with smug superiority as they follow these good natured dummkopfs from departure to journey's end."
But one naysayer—who gave the book a one-star review on Amazon—had this to say:
My seven-year-old recently brought this book home from his school library. I found it very offensive, because I think it teaches children that it's funny to call others "stupid." I cannot think of a circumstance in which it is appropriate for a child or an adult to use this word towards another person. I was so upset that I wrote a note to the school librarian.
In fact, "stupid" is an awfully harsh word. Read More »