Posts Tagged 'Sleep No More'
September 30, 2011 | by The Paris Review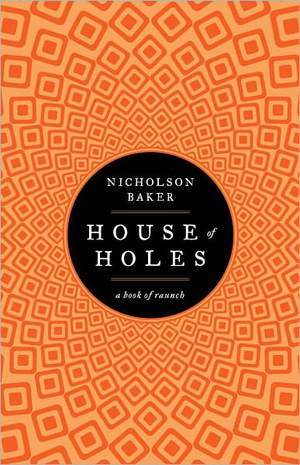 Elaine Blair says let your children read Nicholson Baker: "House of Holes will introduce impressionable readers to many interesting sexual possibilities without a whisper of stereotype or slur. You can be sure that no matter what scene your children are masturbating to, they are not objectifying women. But you will have to make sure that they accidentally stumble on it soon, before they find the Internet, if they are to have a fighting chance at being wholesome and delightful fuckers instead of hopelessly depraved ones like yourself." —Lorin Stein
My friend Pete turned me on to Ephemeral New York, which, along with Vanishing New York, has immediately entered my personal must-read feed. And if you really want to feel melancholy about our city's lost treasures, take a look at this. (And thanks to Vanishing New York for turning me on to Karen Lillis's Bagging the Beats at Midnight, a memoir by a long-time employee of beloved—and endangered—St. Mark's Bookshop.) —Sadie Stein
Is print dead? Not at all. The New York Art Book Fair, hosted by Printed Matter this weekend at P.S. 1, is probably the best browsing experience you'll have all year. Photobooks, artist's books, antiquated books, ephemera, zines: it has everything from the small to the massive, the odd to the vintage, the practical to the whimsical. —Deirdre Foley-Mendelssohn
I've been poking around in Asymptote, a new and impressively eclectic online magazine, with fiction and nonfiction, poetry and criticism, all in translation. I've especially enjoyed the (very) short story by Robert Walser, translated by Susan Bernofsky, Adonis's "Ambiguity," translated by Elliott Colla, and an essay about riddles by the Russian formalist Viktor Shklovsky, translated by Shushan Avagyan. There is, in other words, something for everyone. —Robyn Creswell
I picked up a copy of Mr. Fox by Helen Oyeyemi in the office and am thoroughly enjoying doses of Wes Anderson-esque whimsy. It's a fairy tale disguised as a novel about a writer (named Mr. Fox), his muse (Mary Foxe), and his characters. Like all good fairy tales, the story is told over and over again in various romantic settings, in this case involving plenty of typewriters, brownstones, and flower shops. —Artie Niederhoffer
An old interview between Borges and Enrique Krauze, devoted mainly to Spinoza, is newly translated in the current issue of The Reading Room: "Descartes let himself be seduced by that abominable little Protestant sect, the heresy that is the Church of Rome; but if one accepts his premises, one arrives either at solipsism or Spinozism. Which means that Spinoza was a more coherent thinker and certainly much braver than Descartes. For me—simply because I'm a coward myself—bravery is an essential virtue." –L. S.
Much has already been written on the immersive, off-broadway theatre experience, Sleep No More. Recently extended through November 5, this eerie production has been haunting me all week. Though the storyline (based on Macbeth) left me a bit puzzled and frustrated, the sets, music, and lighting design alone are worth the price of admission. If you go, stick as close to the actors as you can (even when that means literally running up and down stairs) and you might get as lucky as I did to get locked in a room alone with one of the players. What a memorable and bewitching treat to have a monologue recited to you and you alone—sans mask. —Charlotte Strick
August 4, 2011 | by Alexandra Pechman
It wasn't my plan to get thrown up against a wall by Macduff on a Monday night. Only hours earlier, I'd found myself innocuously waiting in a long line, on an otherwise deserted Chelsea corner, in a crowd wearing a sheen of sweat under cocktail dresses and collared shirts.
"I can't believe they're making us wait," a man in very short shorts in front of me said. It was seven-twenty outside the McKittrick Hotel, a hundred-plus-room Chelsea warehouse currently playing host to one of New York's most immersive theater experiences, but no one had seen any of the gore, sex, or fun our tickets promised. "I hate lines," a girl in a halter top moaned to her friend.
"What's the name of this?" a woman passing by asked me.
"Sleep No More," I said.
"That's the name of the club?"
We were waiting, in fact, to see a free-form staging of Macbeth, in which the audience wanders through a maze of lush rooms decorated like Hitchcock's version of a boutique hotel, including a gruesome taxidermist shop and a candy store. I'd heard that actors climbed up walls, had orgies, and went ballroom dancing, but I'd decided to ignore the freakish distractions in hopes of sifting out something less fleeting from the thousands of documents, photos, and files that decorate the convoluted set. If my wallet was going to be nearly a hundred dollars lighter by the end of the night, I wanted to leave with more than just the experience of a naked, wordless rendition of "Out damn spot!" I wanted to walk away with some small, new understanding of Shakespeare. Read More »