Posts Tagged 'short fiction'
November 12, 2013 | by Jonathan Lee
It is common, when assessing the achievements of a fiction writer, to consider how "well-rounded" his or her characters are. But one of the many pleasures of Kevin Barry's work, and in particular of his most recent collection, Dark Lies The Island, is that it reminds us how—in fiction as in life—the most interesting people are often lopsided.
In a Barry story, people fuck up and then, after taking a breather, they fuck up some more. A guy walks out of a juvenile detention center and—fresh start!—concludes it's a grand idea to start selling crystal meth. A boy on a rooftop thinks about kissing a girl, and keeps on thinking about it, and thinking about it, until hesitancy has nuked opportunity. In one of the collection's most gnawingly memorable stories, "Ernestine and Kit," the reader is presented with two chatty, unremarkable middle-aged women on a road-trip. The stage seems set for a warm story of female bonding. Only gradually, with slow dread, do we begin to read the cruel slant of their thoughts: they are predators planning to snatch a child.
Although he's not averse to the occasional earnest moment of romance, Barry's usual mode is laughter in the dark. Writers producing work in this vein are not, these days, a publisher's dream. There is therefore something comforting in the way he's finding an admiring, expanding audience both in his native Ireland and here in the U.S. After years of producing work he was unhappy with ("I wrote these great sententious sentences, clause after clause after clause under a black belly of fucking cloud") his first major breakthrough came in 2007, when he won the Rooney Prize for Literature for There Are Little Kingdoms. That story collection had been released by a tiny Dublin literary press called The Stinging Fly. His first novel, City of Bohane, appeared in the UK in 2011 and went on to win the International IMPAC Dublin Literary Award. When Graywolf Press gave the book an American release it graced the cover of the New York Times Book Review and was hailed by the reviewer as a novel "full of marvels … marvels of language, invention, surprise."
Ale is one of Barry's enthusiasms. The interview which follows took place over pints at Flatbush Farm, a bar in Brooklyn. He's a keen, wide-eyed talker who's always pushing at the limits of what a curse word can do. He injects bright life into a conversation and occasionally ad-libs the kinds of observations you underline in his books. In Dark Lies The Island, breakfast involves "scraping an anti-death spread the colour of Van Gogh's sunflowers onto a piece of nine-grain artisanal toast." The summer staff at an old hotel include "a pack of energetic young Belarusians, fucking each other at all angles of the clock." The sky at night "shucked the last of its evening grey" and "the buck in the kiosk at the clampers had a face on him like a dose of cancer." Barry's language drags you into a strange, darkly lyrical world, enacting his own definition of literature as a mode of transport. "It lifts you up out of whatever situation you're in and it puts you down somewhere else," he says below. "It fucking escapes you. That's what literature is." Read More »
September 18, 2012 | by The Paris Review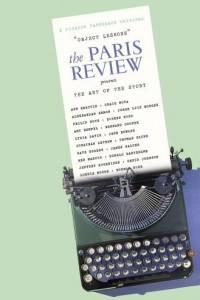 Publisher's Weekly called it "a kind of mini-M.F.A."
In Object Lessons: The Paris Review Presents the Art of the Short Story, we asked twenty masters of the medium to choose their favorite short stories from our sixty-year archive, and write an introduction. The result is a series of "object lessons" in the art of short fiction, a look back at our incredible history, and, not incidentally, a terrific read.
Can you guess who wrote the following selection?
"Beware of getting out of touch," his therapist had warned. "It happens gradually. It creeps over you by degrees. When you're not interacting with people, you start losing the beat. Then blammo. Suddenly, you're that guy in the yard."

"I'm who?" asked Buddy.

"The guy with the too-short pants," said the therapist.
Find out! And show your commitment to keeping the short story alive by purchasing a copy today!