Posts Tagged 'Shakespeare & Co.'
February 2, 2012 | by Sarah Funke Butler
There's so much to celebrate today, February 2, the birthday of James Joyce. On January 1 of this year the published works of Joyce came into the public domain. What does this mean? It means that scholars no longer need to go to his grandson Stephen Joyce, bowl in hand, begging for a ladle full of text. It means that I can translate for you the above illegible bit of manuscript from Ulysses in Joyce's hand:
By Bachelor's walk jogjingle
jaunted Blazes Boylan, bachelor.
In sun, in heat, warmseated,
sprawled, mare's glossy rump
atrot. Horn, Have you the ?
Horn. Have you the ? Haw
haw horn.
Clearer? Good.
Even better, it also means that I can quote you the slightly different published version of this passage:
By Bachelor's walk jogjaunty jingled Blazes Boylan, bachelor, in sun, in heat, mare's glossy rump atrot with a flick of whip, on bounding tyres: sprawled, warmseated, Boylan impatience, ardentbold. Horn. Have you the ? Horn. Have you the ? Haw haw horn.
You see the improvement? Excellent.
The irony of Stephen Joyce's virtual censorship of the work of a man continually at odds with the censors himself has not gone unnoted—especially because Joyce reveled in the thought of perplexing scholars for generations to come. (The censorship that afflicted—if not made—Joyce's career is also tinged with irony: who among the hormonal pubescent lads you know would have the patience and determination to locate, let alone reread, the dirty bits?)
You may recognize this snatch of text from the eleventh chapter of Ulysses, the Sirens episode. Read More »
July 14, 2011 | by Lorin Stein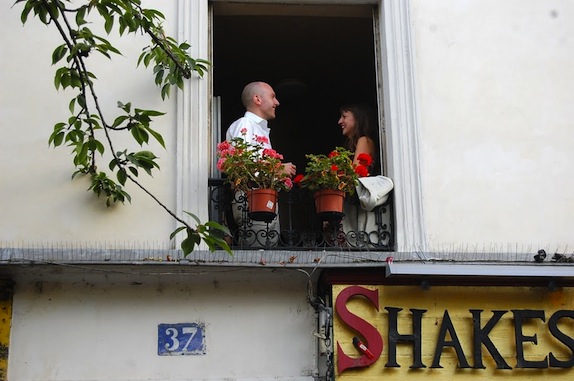 Dear Thessaly,
You're probably still in bed, or finishing up a short story, but here in Paris it's four o'clock; across the street from my hotel the bells of Nôtre Dame are playing "Three Blind Mice"; and I owe you an update from the Ville-Lumière.
It's my first time here in years, since the indoor smoking ban in fact, but no sooner did I get through customs than I started craving a cigarette. I think it must be the strain of reading airport signs in French. This craving intensified in the taxi. By the time I got through breakfast at a tourist café on Saint Germain—jambon beurre, three cafés crèmes—it was time for a Gauloise Blonde and a nap.
My hosts at Shakespeare & Co. kindly booked me a room around the corner from the famous shop. Mine is the best room the Hotel Esmeralda has to offer, and one of the highest, smelling faintly but not unpleasantly of blow-dryer and dead mouse. It is five flights up. Reaching the top of the stairs, I dropped my bag, conked out, and dreamed of Robert Silvers: he had climbed up after me to inquire about an essay he had written on the early history of The Paris Review—an essay slated to run in our last issue, but it hadn't.
This anxiety dream is easy to explain. You see, on the flight over I'd been reading a doctoral dissertation, Enterprise in the Service of Art: A Critical History of The Paris Review, 1953–1973, in preparation for my talk at the bookstore: "The Paris Review: Past, Present, Future." I had taken plenty of notes, but nothing that added up to a talk.