Posts Tagged 'Sesame Street'
January 9, 2012 | by Matt Weinstock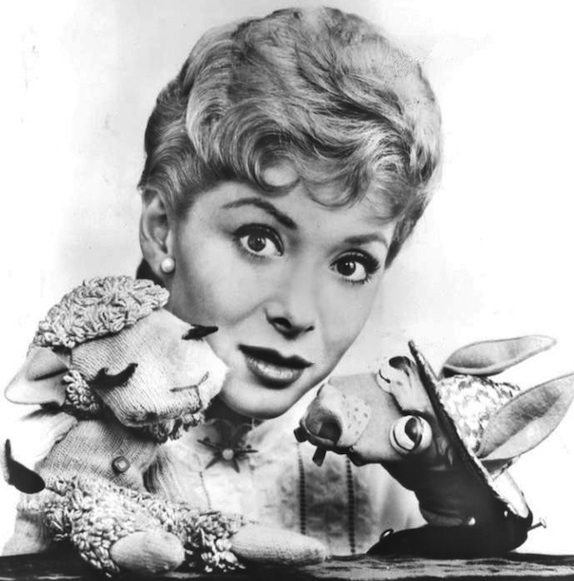 When recently asked his opinion of monogamy, John Waters said, "I don't need another person to make me feel whole. I feel crowded." The line immediately reminded me of ventriloquist Shari Lewis. Lewis wasn't crowded, exactly, with only three enduring creations—Lamb Chop, Charlie Horse, and Hush Puppy—but to me her career is emblematic of the simultaneously crowded and lonely nature of puppeteering. By Lewis's own admission, Lamb Chop's Play-Along, which I grew up watching during its run on PBS from 1992 to 1997, had no educational content. ("My show is not organized to educate," she said. "Sesame Street does that brilliantly.") Instead, Play-Along was a serialized sock-puppet soap opera ("At Home with Lamb Chop") which kept being interrupted by knock-knock jokes, songs, and gags (including an ingenious method of preslicing a banana so that it would tumble to pieces, Jenga-style, when unpeeled). The show was like Borscht Belt boot camp: a toolbox for kids who desperately wanted to be liked, full of little tricks to spruce up their personalities. Even Lamb Chop's laugh—a hesitant, schmoozy laugh that usually comes in response to jokes she doesn't quite understand—hints at her desire to fit in.
The show's emphasis on showmanship stressed me out as a kid, and I preferred the "At Home with Lamb Chop" sequences. They were absorbingly plotted but also had none of the perils of interaction, of trying to woo friends, of trying to follow along at home with your own banana. "At Home with Lamb Chop" offered the comforting suggestion that friends weren't necessary, that one could simply chop one's own personality to bits, and, earthworm-style, the pieces would all sprout heads and start bickering.
December 27, 2011 | by Avi Steinberg
We're out this week, but we're re-posting some of our favorite pieces from 2011 while we're away. We hope you enjoy—and have a happy New Year!
Maurice Sendak is set to publish his first full-production book since Outside Over There (1981). For the past thirty years, Sendak has been collaborating with other writers, illustrating old texts, designing sets and costumes for opera and ballet productions, creating advertisements and book and magazine covers, and making the occasional HBO cameo as an old-world rabbi. But with Bumble-Ardy, Sendak is reemerging in the form that he has, since 1963's Where the Wild Things Are, come to define: children's stories.
Bumble-Ardy is a pig, raised by an aunt, who is built like a house and who lives in a house that looks like a ruin. This aunt is doing her best with poor Bumble, a child who was orphaned when his parents "gorged and gained weight. / And got ate." That tragic turn of events may have been for the best, as Bumble's lousy parents never once got around to throwing the boy a birthday party (his birthday is June 10, the same as Sendak's). So, on his ninth birthday, Bumble secretly invites over terrifying hordes of local swine, who arrive in disguise for a bacchanalia of "birthday cake and brine." The party ends in hoggish chaos, in tears and threats of slaughter—and, finally, with a measure of forgiveness.
Why the decision to go with a pig? Why not a hedgehog?
I've always loved pigs: the shape of them, the look of them, and the fact that they are so intelligent. I think I like them more than I like little human boys. The prospect of drawing pigs was something I could look forward to, and I needed something to look forward to. This project was done under very difficult circumstances. Somebody very important to me was dying painfully, horribly, slowly, and it leaves you questioning everything. Read More »