November 30, 2011 | by Josh Lieberman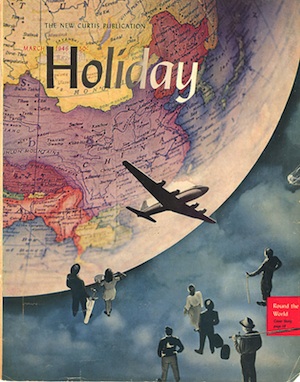 Here's how it begins. You are in a bookstore on the main drag of a small town. You walk along the mystery and western paperback sections, and then you see a wicker basket overflowing with Life magazines. You idly flip through the stack because you know Life was once an important cultural force but have never seen the magazine in person. The copies of Life are musty and torn, and in the middle of the heap you come across something called Holiday. It has the same heft as Life, more than a foot tall and surprisingly heavy, but in place of a black-and-white photograph on the cover there is a colorful swirling yellow illustration of the sun and the words "California Without Cliches." The magazine is from 1965 and you think it would look good on your coffee table. Also the ads are campy and fun ("San Diego Is a See-Do Vacationland!"), so you buy the magazine—why not, it's only a few bucks—and take it home. You turn on the TV and half watch Seinfeld as you flip through for the ads. Then you come upon "Notes from a Native Daughter," the Joan Didion essay you read in college but don't really remember. You read how California is only five hours from New York by jet but really that is just a delusion: "California is somewhere else." Now you are somewhere else. Seinfeld ends and another Seinfeld begins and you read the entire essay and then discover a piece by Ray Bradbury, your old pal from high school English. You read his rhapsodic paean to Disneyland ("No beatniks here. No Cool people with Cool faces pretending not to care, thus swindling themselves out of life or any chance for life"), and you think that's pretty good, too. You head back to the bookstore to see if they have any more issues of Holiday.
***
Whenever I mention to someone that I've started collecting old issues of Holiday, the excellent yet forgotten monthly travel magazine that was born after World War II and lived until the late seventies, the response generally falls between bafflement and irritation. "Why would you do that?" people ask, as though I've just admitted to hoarding old shoehorns or something truly sinister.
November 7, 2011 | by Adam Wilson
My interest in Owen Wilson (American actor b. 1968) is admittedly creepy, undoubtedly perverse, and possibly based on nothing more than the fact of our shared last name. For I, too, am something of a Wilson.
A shared Anglo-Saxon surname, however, is merely the first parallel between our lives. To wit: Like O., I was born into an artistic family (our mothers are visual artists, our siblings work in film); I too was a self-proclaimed "troublemaker" in my youth; I too once wore blond hair that hung to my shoulders; I too have a large and distinctive nose; I too have a younger brunette brother; I too have struggled with depression; and I, too, consider myself primarily a writer, though like O., I would happily accept any acting job offered regardless of script quality, assuming the pay is substantial. Did I mention we have the same taste in women? He has been romantically linked to Kate Hudson, Demi Moore, and Sheryl Crow; I have not. But I have often imagined those three in erotic concert, Crow's "All I Wanna Do" winnowing from my iPod dock as their cougar paws explore my body's nooks.
But, though we're both Wilsons, only one of us (O.) is of true Anglo-Saxon origin. I come from a small clan of Jewish Wilsons née Wilsick née Wilczyk, and my true self is apparent under even the dimmest bulb of scrutiny. Read More »