August 20, 2013 | by Alia Akkam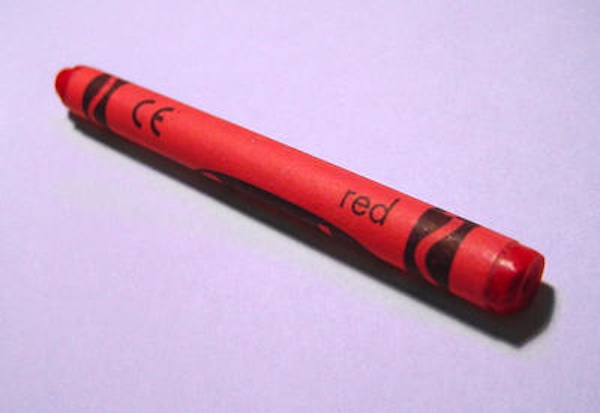 Everywhere I look there is paint. In the bristles of the brushes, hastily run through the sink, that bake atop the windowsill, on the collage of red and black splotches staining the metal table, filling bottles on the back shelf with tempera greens and blues, and dirtying the smocks my classmates gleefully slip on. To them, making papier-mâché panda bears out of old newspapers is a reward for practicing rows of cursive Ks and struggling through multiplication quizzes. I am the one who stares at the clock waiting for a sluggish second hand to make its orbit so I can be a minute closer to the well-worn marble notebooks tucked inside my desk.
Mrs. Grigg is our art teacher. She has a mane of gray curls, wears long, flowing skirts, and smells of musk. I discover that her first name is Yolanda, an ethereal departure from the Pats and Joannes who preside over the PTA bake sales, and I think maybe I can ask her what is wrong with me. Yolanda will tell me the truth. But I see the way she scowls when my ruler fails to prevent crooked lines, and when my green, left-handed scissors leave ragged edges, maligning what could have been a perfect triangle. So I remain silent. One day we are making Santa Clauses out of construction paper. For the artistically average children they will become centerpieces at the Christmas dinner table. I will toss mine into a garbage can on the walk home from school. As I curl strips of white paper around a pencil to make Santa's beard, frustrated they aren't half as springy as those the kids around me are churning out, I sulk.
"Are you miserable?" Mrs. Grigg asks me as she shifts the glasses from around her neck to the bridge of her nose and peers at my deformed Santa. I nod. Finally, I tell myself, Yolanda realizes no good can come from me sitting in this room pretending I have a shred of artistic talent. I fear art class almost as much as gym, where I can't dribble a basketball and am picked last for teams. Even when the kickball is placed on home plate instead of rolled to me, my foot fails to make contact. Surely, being uncoordinated is punishment enough for an elementary school girl surrounded by ruthlessly laughing children. But Mrs. Grigg does not tell me I can sit in the corner and read my language arts textbook as I have dreamed. "You should have told me. You could have made a dreidel," she says. She leaves me choking in the mist of her earthy perfume before I can tell her I am not Jewish. I continue winding shreds of paper around the unsharpened No. 2, one eye on the clock. Read More »
June 17, 2010 | by Rita Konig
This is the second installment of Rita Konig's culture diary. Click here to read part 1.
DAY FOUR
7:00 A.M. NPR. Turns out it is pledge week. That explains the intolerable service! I can't retain any information other than the stuff they are giving away.
8:00 A.M. New York Times story on children's menus. Nicola Marzovilla hates them1.
7:30 P.M. Times dinner at Bill Keller's house. Walk into a room of faces I don't know. See one I recognize across the room. Phew. Can't think why I know him. Am seated next to him at dinner. Penny drops. I have been watching him (quite a lot) making stew on the screen in the back of my Jet Blue seat. He is Mark Bittman, food writer from the Times. So I tell him. "Sigh, Yes, I get that a lot." Pretty much end of conversation. Ben Brantley, theater critic, on other side. Heaven. Realize this is my moment to ask about the shark fin in the Obama picture. So I ask: did they choose it on purpose? Was this a big joke at the Times? No one had noticed! Bill goes off to find a copy of the paper. Apparently, it is more likely to be a dolphin. Think I hide my disappointment reasonably well. By the end of dinner conversation has turned to Real Housewives.
DAY FIVE
9:00 A.M. Flight to Savannah for art classes at the Savannah College of Art and Design. Last April, sitting on a panel during their Style Week, I told founder and president Paula Wallace that I really wanted to learn perspective drawing. Presto! Am on my way for three days of private tuition.
10:00 A.M. Plane is TINY. Actually, I find that small planes are less scary than the big ones. We are jammed in like sardines. Read The Far Cry and eat mini pretzels. I am now loving the book2. Read it all the way to the end. It is such a Persephone3 book.
1:00 P.M. Get picked up at airport. Keith Johnson was on my plane and is also going to SCAD to shoot for his show "Man Shops Globe." Arrive at Magnolia Hall and start lessons, almost immediately, in the Carriage House with Peili Wang. He has two HUGE plastic bags filled with art materials. The most exciting is a box with a grid of every color of marker pen! I feel about eight years old.
9:30 P.M. Back from dinner and get into bed with new iPad. Watch "Real Housewives Reunion." Kelly Bensimon is so stupid, she is like Kevin Kline in A Fish Called Wanda. Move on to Glee pilot. It is so cheery after all those bitching women. Want to break into song—"Don't stop believing"—and I hate musicals! I do LOVE Jane Lynch, though. And she just got married. It was in the Times Style section4.
Annotations
J'AGREE. Well, in principle. I always want to eat everything on them: grilled cheese, pasta, chicken nuggets and French fries. This article has a bajilion comments from annoying parents showing off about all the sophisticated food their children have been eating since the age of two.

The weather has turned. Theresa is turning out to be such an interested child. She comes across all these characters on the boat, and where her frightful father either dismisses them (usually the women) out of hand or takes to them (usually the men) immediately, she is more questioning and of an independent mind. I am feeling very fond of her.

Persephone reissues novels that have fallen out of print. Mostly 1930s and 1940s. I would think they're quite feminine. I can't imagine men being very interested by them. But they are brilliant, usually about human character and frailty.

Was amazed she was in it. I can't bear that section.