Posts Tagged 'schadenfreude'
December 17, 2014 | by Sadie Stein
"Do we need tea?" she echoed. "But Miss Lathbury … " She sounded puzzled and distressed and I began to realise that my question had struck at something deep and fundamental. It was the kind of question that starts a landslide in the mind. ―Barbara Pym, Excellent Women
We have all experienced such "landslides of the mind": moments that upend everything we thought we knew or believed, everything that made us feel secure. These are the moments when we grow up—or resolutely refuse to. They are the moments that define us. In my case, it was the moment, in middle school, when I saw someone actually slip on a banana peel.
If you'd asked me in the minutes—days—years before it happened, I would have scoffed at the very notion. I knew certain things as facts: The sky was blue. Everyone died. People slipping on banana peels were not funny. My certainty was so obvious as not to require conscious thought; and yet, in a sense, it underlay so many of my assumptions about comedy, sophistication, and human nature itself. 
As a child I was in the habit of listening to the 1918 Prokofiev opera Love for Three Oranges (dramatized for kids by the peerless Ann Rachlin), in which a prince has fallen into a melancholy from too much tragic poetry; the only cure is laughter. Yet all the most amusing clowns and jesters in the land fail to coax forth so much as a smile. It is only when the evil witch Fata Morgana falls over and exposes her underpants that the melancholy prince is roused to helpless mirth, and his life is saved. Read More »
October 30, 2012 | by Francesca Mari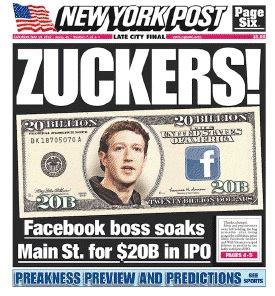 I was the 501st person to join Facebook. The inimitable Hatty Hong, number 499, urged me on from her desk across our freshman dorm room. I hardly used it the first few months because so few others were active, and as a senior I logged on to look at dead people's profiles. Or to click through photographs of myself to remember where my time went. I didn't think it was appropriate to remain a member after graduation. Facebook was something you were to outgrow, like Tommy Girl perfume or AOL Instant Messenger. Five years since graduation, I use it more now than ever.
As an elder user, I can say one thing with authority: When it comes to disseminating news about Facebook, few media are more effective than Facebook itself. That's how I came to learn that longtime users like me are more likely to believe others happier than themselves. At least according to a study from Utah Valley University. The longer one has used Facebook, they found, the more likely he or she is to recall other people's positive posts: the stunning honeymoon in Greece of a girl you never really knew in high school—and whose last name now looks, well, Greek; a list of very impressive graduate school acceptances, the likes of which prompted one Awl writer to dash off a lesson in Facebook manners. Read More »