April 6, 2015 | by Jane Yong Kim
Anicka Yi's miasmatic art.
In nineteenth-century England, it was believed that the poor, foul-smelling parts of cities were points of origin for disease. The word malaria is from the Italian mal'aria: "bad air." Cholera was believed to come from decayed organic matter, miasmata. Adherents of miasma theory followed their noses: bad odors, they thought, carried infectious disease. In The Sanitary Conditions of the Labouring Population, published in 1842, the British social reformer Edwin Chadwick proclaimed that smell "generally gives certain warning of the presence of malaria or gases noxious to the health."
The artist Anicka Yi plays with this amorphous, olfactory fear in her show "You Can Call Me F," a meditation on contagion and femininity up through April 11 at The Kitchen. Yi's media are bacteria and smell, and a sense of bodily invasion pervades the exhibition. She worked with cheek swabs from a hundred women—her creative peers, artists, collectors, curators, and the like—to form a bacteria collective that will grow for the duration of the show. It's a sort of feminist ecosystem, powerful but fragile. Quarantine tents dot the dark, barren space, and the scent that permeates it is at once perfumed and antiseptic, redolent of a doctor's office operating out of a woman's bedroom. It's almost pleasant, but it carries an undercurrent of danger: Where does this smell come from, exactly, and where is it going? Read More »
February 20, 2012 | by Emily Gould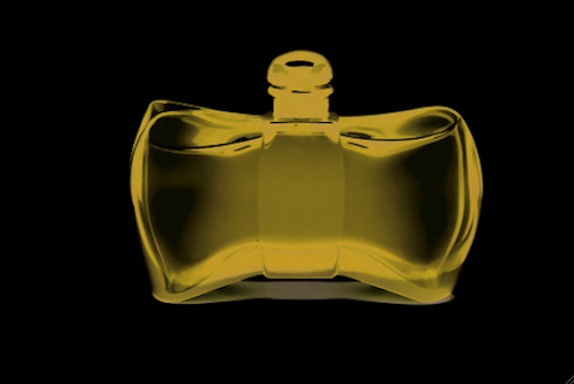 In 2008 Luca Turin, a European biochemist who'd done groundbreaking research on how olfaction works, joined forces with Tania Sanchez, a thirtyish American, to produce an English edition of his cult hit French perfume guide. The result, their Perfumes: The Guide, has a wide readership among people who admire good perfume, but it deserves a wider one among people who admire good criticism of any kind. I found it in the "fashion" section of a classy bookstore, and in retrospect this seems like finding Madame Bovary shelved with the historical romances.
Unfortunately, though, Perfumes has the side effect of making the reader—well, this reader—embark immediately on the kind of quest that leads her to a lot of esoteric corners of the internet and shoddy midtown shops. But more on that later.
I picked up Perfumes on a whim, expecting standard women's magazine perfume writing: imaginary fruits and lavish adjectives, nonsense marketing descriptions bracketed with pseudoscientific junk about how smells awaken our reptilian base nature. Sanchez seems to have anticipated this concern. "Smell psychologists and the uncritical journalists who love them get a lot of mileage out of calling smell the most primitive sense. But as with all of the work of evolutionary psychologists, the conclusions that support our desires and reinforce our prejudices are those of which we should be most wary," she writes.
I read the rest of that page standing up in the store and finished the introduction on line at the cash register.
Sanchez goes on to debunk any and all fixed ideas anyone might have had about perfume in an economical four pages. She describes the ways the industry has discouraged serious perfume criticism, from concealing the identities of fragrances' authors to lying about formulas and content. She explains why this is a golden age of perfume criticism (the Internet). She dismisses the notion that talking about our pleasures ruins them. "The fact is," she announces in closing, "this stuff is worth loving. As with the tawdriest pop melody, there is a base pleasure in perfume, in just about any perfume, even the cheapest and most starved of ideas, that is better than no perfume at all."
And then the real fun begins: the reviews. Read More »