Posts Tagged 'Sarah Lawrence College'
November 25, 2014 | by Justin Taylor
The eighteen stories in New York 1 Tel Aviv 0, Shelly Oria's debut collection, are beguiling, bizarre, and wise. (One of them, "My Wife, in Converse," appeared in The Paris Review earlier this year.) Her sentences, with their clear-eyed, authoritative calm, underscore and complicate the unlikely circumstances in which her characters find themselves, and the chaos of their inner lives. Here, for example, is the narrator of "This Way I Don't Have to Be," on her addiction to sleeping with married men:
I always look them in the eye throughout, and that can be tricky, because they mostly try to avoid the intimacy of eye contact. I wait, and then suddenly it's there, passing through them like a wave. In that moment, their entire lives turn to air … For one brief moment, they go back in time, they make different choices, they are different men. And my body is the time-travel machine that takes them there.
Born in Los Angeles but raised in Israel, Oria moved to the United States at twenty-five, five years after finishing her compulsory military service. Though she was fluent in English, she thought—and wrote—in Hebrew; hoping to attend the writing program at Sarah Lawrence College, she taught herself to write fiction in English, an experience she describes as "one of the hardest things I've ever done." Her prose is both energized and measured, and perhaps this is the effect of customary Israeli volubility short-leashed by an inner translator—a tiny version of the author herself who sits at her little desk inside the brain, reading the rough transcripts as they are faxed up from the heart, and forever sending notes back down that read, Yes, but is that really exactly what you meant to say? All authors live with a version of this little demon; it just happens that Oria's is bilingual and combat trained.
I should mention that Oria is my colleague at the Pratt Institute. She is also a life/creativity coach and hosts a reading series in the East Village. Between all of that and a book tour, she is very busy, for which reason, though we would have much preferred the pleasure of each other's company, this interview was conducted via e-mail.
I find myself returning to the scene in the title story where Pie—who is in a three-way relationship with a woman and a man—divides herself into "Me No. 1" and "Me No. 2." No. 1, "the Israeli who was taught that being tough and being strong are the same thing," is ready to walk out the door on both lovers immediately. No. 2, "a woman who successfully impersonates an American" and "has a lot to prove," wants to stay. Pie seems to think that No. 1 has the right take on the situation, but it's No. 2's position she adopts as her own, and I for one am hardly convinced that she's wrong. Might you speak, then, to the risks and allures of pulling off a successful impersonation?
The thing is—and maybe this is obvious—both Pies are wrong. By which I, of course, also mean that they're both right. And to me that's what the story is trying to do, and what the book is trying to do, and what I'm trying to do, not only as a writer but as a human—challenge this idea of either-or, hang out a bit in the in-between space. Or really, the both space. As far as I'm concerned, that goes for nationality, for sexuality, for identity in general. We're hardwired toward this dichotomous way of thinking about and constructing identity. It's almost an addiction—a cultural addiction to categories. Read More »
August 23, 2011 | by Robyn Creswell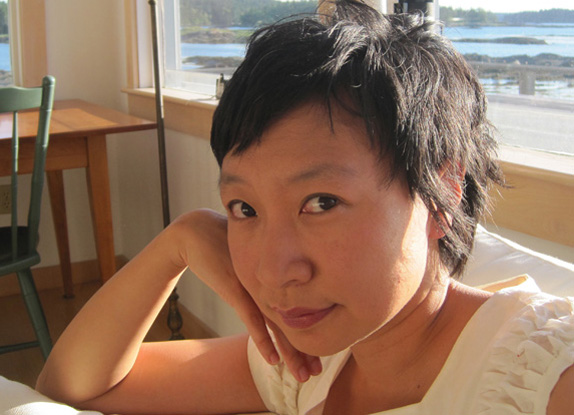 The summer issue of The Paris Review includes a series of poems by Cathy Park Hong. Hong has published two books of poetry, Translating Mo'um (2002) and Dance Dance Revolution (2007). She teaches at Sarah Lawrence College.

The poems published in this issue come from a longer work, entitled "Fort Ballads." How does it fit into your forthcoming book, Engine Empire?
"Fort Ballads" is part of the first section in Engine Empire. The poems in the collection range from a trilogy, ranging from Western ballads to love poems set in present-day industrial China to poems set in a virtual future. "Fort Ballads" follows a band of outlaw fortune-seekers who travel to a California boomtown during the 1800s. The boomtown isn't real; it's full of strange, violent, sometimes surreal happenings. It's my own way of mythologizing California, which is where I'm from. The main character is "Our Jim," who's half Comanche Indian. In creating him, I was thinking of the typical iconic Western guys, like Billy the Kid, but his story is also reminiscent of Huck Finn and maybe a little of Faulkner's Joe Christmas. He's an orphan, a cipher, a boy trapped between identities, both innocent and vengeful. But the section isn't all narrative—there are sound poems in there as well, where I let myself wallow in kitschy Western vernacular. Read More »