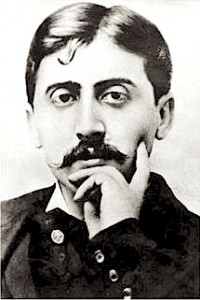 The first volume of Marcel Proust's In Search of Lost Time: Swann's Way was published almost exactly a hundred years ago. Its opening lines make one thing inescapably apparent: Proust's style is inimitable; there is much more to it than long sentences, pauses for reminiscence and brittle cookie breaks, and whatever other tropes readers have associated with Proust. It is a style that tussles with our notion of literary temporality itself. Over the last century, countless translators have struggled with these famous opening lines:
Longtemps, je me suis couché de bonne heure. Parfois, à peine ma bougie éteinte, mes yeux se fermaient si vite que je n'avais pas le temps de me dire: « Je m'endors. »
Nobody seems to be able to agree whether to translate the verb of the principal clause as a conditional or a past participle, because while in French it is obviously the latter, it seems to act as the former. We've had various degrees of "went to bed early," "used to go to bed early," "would go to bed early," each meaning more or less the same thing, but none hitting the nail directly on the head.
Scholars have found these lines, at once, undeniably charming and a huge pain to work with.
But in this seemingly untranslatable sentence, even among translators—whose very job it is to take troublesome idioms and phrases and grammatical twists and make them legible and appropriate, and to do so by imparting as much of Proust's style and as little of their own as possible—there is so much variety that it raises another important question: How would this sentence have been handled by other writers? Read More