Posts Tagged 'romance novel'
October 8, 2013 | by Sadie Stein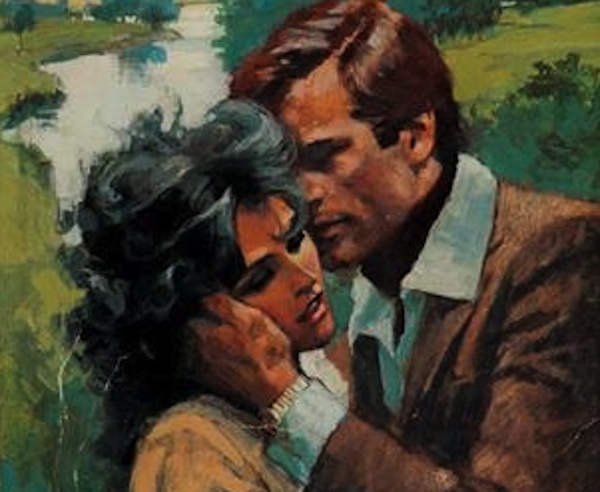 I bought my first early-eighties Harlequin Romance—actually, it was a Mills & Boon—when I was working at a thrift store in London. This was, without question, the worst job I have ever had. Does it count as a job if it's volunteer work? Anyway, it was bad, that time with Help the Aged. I was a junior in college, studying in London, and feeling down; I had thought that perhaps helping others would pull me out of the doldrums. And, since my volunteer work in the States had always centered around Meals on Wheels and visits to local nursing homes, an organization so-named seemed like just what the doctor ordered.
It wasn't. Or at least, the way I managed it wasn't. In retrospect, I probably should have called some central office or at least gone to the Web site to research volunteer opportunities. What I did instead was walk into the local branch of the thrift shop ("charity shop," in the UK) and ask if they needed any volunteers. I'd imagined visiting with homebound pensioners, as I had at home (they would regale me with tales of the Blitz, rationing, etc.); I'd been game for paperwork too, if that's what was needed.
"Could you work in the shop?" asked the girl behind the counter.
I allowed as how I could, if they needed help, and added to the bargain that I had quite a bit of retail experience. Good, she said; I could come back on Thursday. Thursday rolled around and I duly reported for duty. It was then that things became clear.
This was my job: to go through the trash bags of donations people contributed and sort the salable clothes from the dross. This is not in itself such a horrible prospect, but I soon learned there was a reason I had been given latex gloves: the donations were often filthy, and not-so-occasionally mixed amongst them was a piece of rotten food or a dirty diaper.
One of the few perks was being allowed to keep any books I wanted, although most weren't exactly tempting. The first and last one I ever picked up was a paperback romance called The Road to Forever, by one Jeneth Murrey. This is the plot of The Road to Forever: Lallie has been Owen's stepsister since she was four. When their parents died, Owen raised her and her younger siblings. They had a contentious relationship. When Lallie was a young woman, she was framed, accused of having an affair with an older married man, in fact a publicity stunt (don't worry about this plot point too much.) Owen, her stepbrother-guardian, believed the lies, and banished her from the family home. He also forced her to live with some horrible couple in lock-down. She escaped, and hasn't spoken to him in six years. Got it? Read More »