Posts Tagged 'Rivka Galchen'
November 8, 2012 | by Sadie Stein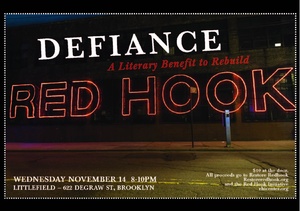 Last week, the waterfront neighborhood of Red Hook, Brooklyn, was one of the areas shattered by superstorm Sandy. On Wednesday, November 14, join host Kurt Andersen; musicians Steve Earle and Stew; novelists Joseph O'Neill, Sam Lipsyte, and Rivka Galchen; nonfiction luminaries Phillip Lopate, Chuck Klosterman, Philip Gourevitch, Meghan O'Rourke, Deborah Baker, Robert Sullivan, and others for Defiance: A Literary Benefit to Rebuild Red Hook. Readings will center on the themes of recovery and rebuilding, drawing on more than two centuries of literature about the historic neighborhood.
The event takes its name from Fort Defiance, the revolutionary-era citadel that once loomed over Red Hook, keeping ferry routes clear for General George Washington's Continental Army. One hundred percent of the proceeds from the evening will be divided between two nonprofit organizations that are leading Red Hook's post-Sandy recovery, Red Hook Initiative and Restore Red Hook. Learn more and buy tickets here.
[tweetbutton]
[facebook_ilike]
December 19, 2011 | by Francisco Goldman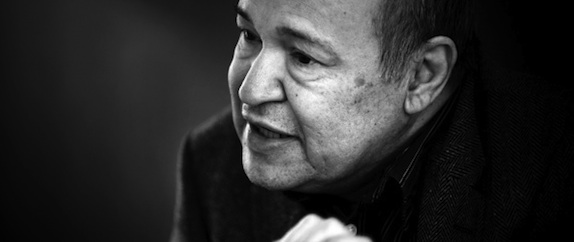 Roberto Bolaño considered Daniel Sada to be without rival among Mexican writers of their generation. Both were born in 1953. Bolaño spent his adolescence in Mexico, and even though some of his greatest novels and stories have Mexican settings, he never set foot there again after moving to Spain in his early twenties. I imagine that Bolaño must have relied, at least to some extent, on Sada's novels—Sada's perfect ear and exuberant re-creation of Mexican voices, the voices of the Mexican desert north especially—while writing his own Mexican masterpieces. Sada's works were a polyphonic parade of voices, a Mexican cacophony: shouts, laughter, violent, lewd curses, sweet whispers, song.
"It was a place rarely visited, but attractive, four kilometers to the south of Sombrerete. There was a barranca whose abyss made you want to stop and contemplate it, and a cascade of crystalline water, thin and capricious." So opens, modestly enough, Sada's novel A la vista, published months before his death this year, on November 18. In the next sentence, Sada strikes a more characteristic note: "También había un ornato de árobles por doquier"—that ornato is a peculiar and Sada-esque word, impossible to translate, the whole phrase delicious to pronounce, though all it means, really, is that there were also a lot of trees around, and "a temperate year-round climate." "The great thing about that place," Sada goes on to write, "was that it was limited to the efficacy of words, as no photograph existed to give a more precise notion of the supposed marvel." The description, the reader realizes by the end of the paragraph, is a set-up for a real estate scam. (As it turns out, there is no cascade, and no trees, only that abyss, and the climate.)
Bolaño compared Sada's baroque writing style to Lezama Lima's, by way of making the point that because the Cuban Lezama's baroque reflected the crowded natural effulgence of the tropics, Sada's baroque is a more impressive verbal invention, a baroque of the desert. Read More »