Posts Tagged 'René Magritte'
November 21, 2014 | by Dan Piepenbring
René Magritte was born on this day in 1898. Louis Simpson's poem "Magritte Shaving" appeared in our twenty-fifth anniversary issue in Spring 1981.
The houses look at one another,
a language of windows.
The violin stands above the collar ...
sleigh bells in a blue sky.

How calm the torso of a woman
like a naked statue.
Reclining in an alcove
with curtains, the window gives
a view of earth ... yellow fields.
She has a blue leg and a green arm,
red arm, and leg painted saffron.

The orange sphere floating in space
in front of the blue canyon
has a face like a mask
with fixed brown eyes.
Directly underneath, on the parapet,
stands a shirt with a tie
in a dark, formal suit.

He has left his shaving brush
on top of the cabinet with doors of glass
that is merging with a cloud.
November 28, 2011 | by Avi Steinberg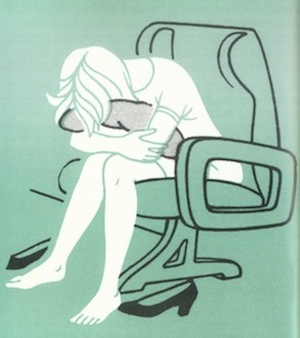 Because I do not want to die in the brawny arms of an industrial-kitchen-fixtures salesman from Tulsa—at least, not one I've only just met—I don't much care for airline travel. During a recent trip from Salt Lake City, my Boeing 757 began to lurch and heave and make dreadful noises. At times we seemed to be in free fall. I caught the look on our veteran flight attendant's face as she rushed by: it was genuine fear. During one particularly terrifying plunge, I felt the brawny fingers of that kitchen-fixtures salesman inching toward me, tugging at my sleeve. I needed an escape. I reached into the seat pocket in front of me.
At 33,000 feet, and falling, we are presented with roughly the same options as on earth. First, we get the in-flight magazine's glossy parade of petit bourgeois distraction. But, face it, when your plane is going down, what good is a recipe for a quick and easy hake with hazelnuts and capers? For those seeking something more directly relevant, there's the Sartre-esque barf bag. But for those of us who occupy that metaphysical middle ground between the in-flight magazine and the barf bag, there's the airline safety card.