November 8, 2012 | by Sadie Stein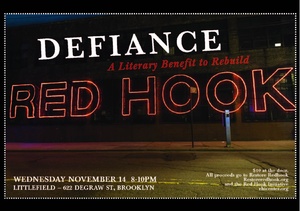 Last week, the waterfront neighborhood of Red Hook, Brooklyn, was one of the areas shattered by superstorm Sandy. On Wednesday, November 14, join host Kurt Andersen; musicians Steve Earle and Stew; novelists Joseph O'Neill, Sam Lipsyte, and Rivka Galchen; nonfiction luminaries Phillip Lopate, Chuck Klosterman, Philip Gourevitch, Meghan O'Rourke, Deborah Baker, Robert Sullivan, and others for Defiance: A Literary Benefit to Rebuild Red Hook. Readings will center on the themes of recovery and rebuilding, drawing on more than two centuries of literature about the historic neighborhood.
The event takes its name from Fort Defiance, the revolutionary-era citadel that once loomed over Red Hook, keeping ferry routes clear for General George Washington's Continental Army. One hundred percent of the proceeds from the evening will be divided between two nonprofit organizations that are leading Red Hook's post-Sandy recovery, Red Hook Initiative and Restore Red Hook. Learn more and buy tickets here.
[tweetbutton]
[facebook_ilike]
December 8, 2011 | by Rachel Kaadzi Ghansah
Jean Toomer lived in Washington, D.C., but "Beehive" could be about any city, and for me it's Manhattan. I live in Red Hook, so from the window I can see Lower Manhattan across the river. It's massive and always in motion. At night, the buildings and the cars on the FDR look crystalline. They are all bodies busy with their duties and delights, like "bees passing in and out the moon." I like that Toomer is also alert to the solitude and melancholy of being merely one among millions.
Beehive

Within this black hive tonight 
There swarm a million bees; 
Bees passing in and out the moon, 
Bees escaping out the moon, 
Bees returning through the moon, 
Silver bees intently buzzing, 
Silver honey dripping from the swarm of bees 
Earth is a waxen cell of the world comb, 
And I, a drone, 
Lying on my back, 
Lipping honey, 
Getting drunk with silver honey, 
Wish that I might fly out past the moon 
And curl forever in some far-off farmyard flower.