Posts Tagged 'recommendations'
June 10, 2011 | by The Paris Review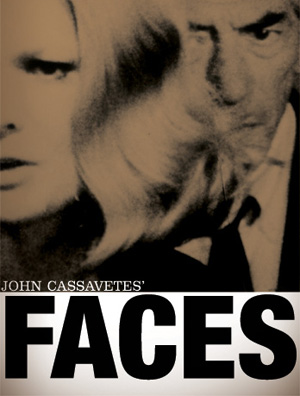 Last Saturday I caught a midnight showing of John Cassavetes's Faces. Shot in LA in the mid-sixties, Faces is a movie about sex, booze, and aging—or, you might just as well say, about the faces of John Marley, Lynn Carlin, Seymour Cassel, and Gena Rowlands. It is absolutely sad, absolutely tender, and absolutely unsentimental. You won't cry, and for days you won't be able to get it out of your head. Not, at least, by reading The Pumpkin Eater (1962), Penelope Mortimer's fictional account of her marriage to Rumpole creator John Mortimer: "We didn't love each other as most people love: and yet the moment I have said that I think of the men and women I have seen clasped together with eyes full of loathing, men and women who murder each other with all the weapons of devotion." —Lorin Stein
I've been enjoying Caroline Preston's ingenious The Scrapbook of Frankie Pratt, a novel made up entirely of vintage images. It's nifty and fun—but the plot moves along, too! —Sadie Stein
Jon-Jon Goulian on Robert Silvers, venerable founding editor of The New York Review of Books: "A man who can field a call like that with such composure is a man, you might say, whose head is still full of marbles, and yet that would leave open the possibility, inconceivable to me, that Bob might one day lose a few. That leaves only one alternative: Bob's head contains one giant marble, one only, and you will have to behead him to make him give it up." —L. S.

Maybe the summer is provoking more wanderlust in me than usual, because this week I read two novels about runaways. First up was Robert Walser's Jakob von Gunten. I moved on to Denis Johnson's Angels. Reading it late at night in the immensely humid heat and borderline-nonexistent light of my tiny bedroom seemed to underscore every bizarre and frightening episode of Johnson's book. —Natalie Jacoby
Prior to reading Terry Castle's collection The Professor: A Sentimental Education, I was only familiar with her jaw-dropping Sontag reminiscences—but I'm sorry it took me so long: all her essays are that funny, pithy, and unexpected. —S. S.

Wesley Yang's remarkable n+1 essay about Seung-Hui Cho, the shooter at the Virginia Tech massacre, is now available as a Kindle single. —Thessaly La Force
On the lighter side, I recommend our Southern editor, John Jeremiah Sullivan, on how to survive Disney World—minus the fear and loathing. —L. S.
A George Plimpton video game? —T. L.
June 3, 2011 | by The Paris Review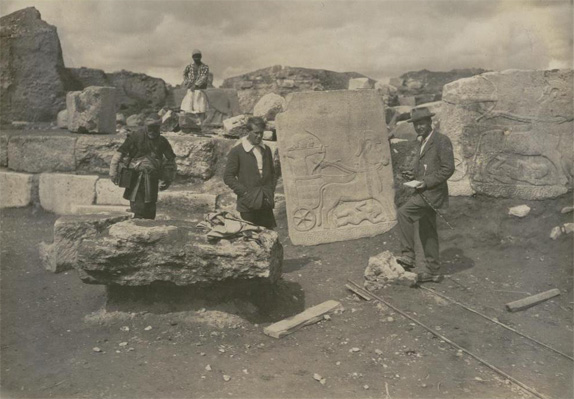 A previously unpublished photograph of T. E. Lawrence was made available for sale this week at an auction house in Shropshire. The image, taken in 1912, shows a youthful Lawrence (in a casual coat and an oversize collar) at an archaeological dig in Tell Halaf. I took news of the photo as an excuse to thumb through Lawrence's Seven Pillars of Wisdom—an all-time favorite of mine—where I was greeted by one of my favorite passages in all of English literature: "All men dream: but not equally. Those who dream by night in the dusty recesses of their minds wake in the day to find that it was vanity: but the dreamers of the day are dangerous men, for they may act their dream with open eyes, to make it possible. This I did." —Stephen Andrew Hiltner
I was sick in bed for the long weekend and spent my time veering rather oddly between the new edition of Diana Vreeland: An Illustrated Biography by Eleanor Dwight (basically the most glorious fashion porn in existence) and M. Owen Lee's fascinating Wagner: The Terrible Man and His Truthful Art. I like to think that Vreeland, if not Wagner, would have appreciated the combo. (And incidentally, if you haven't seen the very bizarre A Rage to Live—a 1965 vehicle about a nympho Suzanne Pleshette—it's worth adding to your Netflix queue for your next sick day.) —Sadie Stein
Kelefa Sanneh on Earl Sweatshirt. Alec Wilkinson on the dearly departed Gil Scott Heron. —Thessaly La Force
I'm a little surprised by my own selection, as it's not my usual fare, but when a copy of Peter Sloterdijk's Neither Sun Nor Death appeared on my desk, I cracked it open and was hooked. He's an appealing and exciting thinker, not least for his "leap out of old-European melancholy and the German maso-theory cartel." —Nicole Rudick
Today, Jean-Luc Godard's latest movie, Film Socialisme, opens in New York. I first saw the film last fall, and was mesmerized by its polylinguistic structure and "Navajo English" subtitles. I've been eagerly waiting since then to watch it a second time and, in preparation, have been reading Richard Brody's insightful coverage—on the thematic and symbolic significance of the gold, and on Jewish characters and Godard's own paranoia—revealing the film to be his "most humane, internationalist, [and] multicultural." —Natalie Jacoby
Sara Breselor's Idiom piece on lesbian teen fiction is poignant and funny. —S. S.
Oh, TAGS bodega cats, Diana Vreeland, Earl Sweatshirt, friday reads, Gil Scott Heron, Jean-Luc Godard, Peter Sloterdijk, recommendations, Richard Brody, staff picks, T. E. Lawrence, Wagner
April 29, 2011 | by The Paris Review
Five Dials
released their latest issue last evening, but I'm still enchanted by "
A Bouquet to Sybille Bedford
," with an essay by Aliette Martin, Bedford's translator and literary executor. —
Thessaly La Force
I've been racing through The Tale of the 1002nd Night, Joseph Roth's last published novel. Set in pre-WWI Vienna, when "the world was deeply and frivolously at peace," it begins with a fairy-tale visit by the Persian Shah and ends in bankruptcy, alcoholism, and despair. But Roth's basic buoyancy—unless it is that of the translator, Michael Hofmann—makes this sad story a joy to read. —Robyn Creswell
Terry Eagleton's On Evil is a cogent study of a subject about which much is assumed, and little questioned. I often found myself disagreeing with his views, but I appreciated his careful writing, his stylish analysis, and, most of all, his ability to make theory both relevant and exciting. —Rosalind Parry
This Sunday, I read David Levithan's The Lover's Dictionary. The narrator writes nonlinearly about a relationship through definitions for words like aloof and fraught. Here's Levithan with "catharsis": "I took it out on the wall. I LOVE YOU. I LOVE YOU. YOU FUCKER, I LOVE YOU." Is the couple still together? We never find out. —Angela Melamud
Christian Lorentzen on Martin Amis's move to Brooklyn. And rambling with W. G. Sebald in East Anglia. —T. L.
April 29, 2011 | by Lorin Stein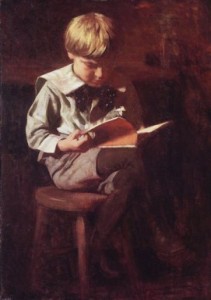 Dear Mr. Stein,
This summer my husband and I will be taking a train from Portland, Oregon, to Whitefish, Montana. Can you recommend any novels set in that region? I've read Jim Harrison, Michael Dorris's A Yellow Raft in Blue Water, Stegner's Angle of Repose and am hoping there are many good novels I'm not yet familiar with set along our route.
Best,
Nora Brzyski
Ms. Brzyski, you've landed on a blind spot the size of, well, Idaho. So I've asked an expert, Philip Connors. Apart from working as a fire lookout (and many other things), Phil is the editor of New West Reader: Essays on An Ever-Evolving Frontier. He writes:
Happily, the natural beauty along that train trip is matched by the beauty of more books set on or near your journey than I can name. If I were at home, staring at my bookshelves, I'd probably give you a slightly different list, but since I'm on a grand tour of my own, currently in Santa Fe, this will have to be off the top of my head. A list of the great Oregon novels would include David James Duncan's The Brothers K and Ken Kesey's Sometimes a Great Notion. The indispensable book on eastern Oregon is a memoir with the sweep and grandeur of a great novel—William Kittredge's Hole in the Sky, a story of paradise found and paradise lost on his family's Warner Valley ranch. Washington is Sherman Alexie country: check out his novels Reservation Blues and The Absolutely True Diary of a Part-Time Indian. Crossing over into Idaho, you absolutely must read Marilynne Robinson's Housekeeping, which plays out in the town of Fingerbone, a fictional analogue to Robinson's hometown of Sandpoint; it's a masterpiece of twentieth-century American fiction. Finally, perhaps the best book set in western Montana is Norman Maclean's A River Runs Through It—two novellas and one story, the title novella being among the most beautiful and haunting tragedies written by anyone, anywhere, in any time.

Finally, if you find your attention for long prose works flagging, make sure to have handy the collected poems of Richard Hugo, Making Certain It Goes On, which contains some of the finest poems of place—from western Washington to western Montana—that I have ever read.
April 22, 2011 | by The Paris Review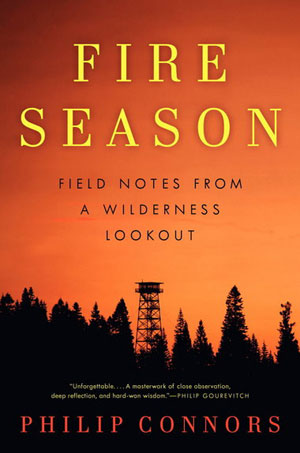 Elif Batuman describes life after writing a best-selling book and tells how she asked Jonathan Frazen if he had any weed. "There's some in my freezer," Franzen replies. "But it's all the way uptown." —Thessaly La Force
Having stretched Philip Connors's Fire Season out over two weeks of late nights, for the pleasure of coming home to it, I tore through Samuel R. Delany's The Motion of Light in Water in a day. I can't stop talking about it, because I can't stop thinking about it. It evokes bohemian New York in the fifties and sixties—gay, straight, and other—more vividly than anything I've read. —Lorin Stein
When I saw that Maurice Manning was a finalist for a Pulitzer this year, I went and reread much of his poetry—psalms and pastorals, a philosophical ode to Daniel Boone. If you don't know his work, you now have no excuse. —Nicole Rudick
What got me about Martin Amis's The Information were the quick, declarative sentences that suddenly appear in otherwise bleak and descriptive paragraphs. At the start of the novel, Amis skirts around our main character until tying everything together with "He was forty tomorrow, and reviewed books." The economy of language here is divine. —Rosalind Parry
Jennifer Egan, who was awarded the Pulitzer Prize for fiction this week, discusses her early hopes of becoming a doctor, life as a struggling writer in New York, and the importance of self-criticism and perseverance in a candid interview with The Days of Yore. —Elianna Kan
This letter from Sebastian Junger to Tim Hetherington, the photographer who was killed in Libya this week, is heartbreaking. —T. L.
April 15, 2011 | by The Paris Review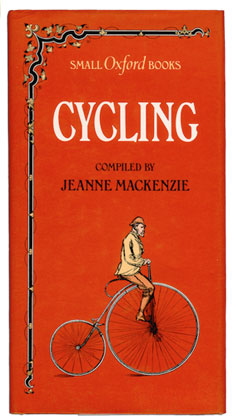 Jeanne Mackenzie's anthology Cycling is a collection of lighthearted, cycle-related selections from various literary figures, including James Boswell, Mark Twain, H. G. Wells, and P. G. Wodehouse, to name but a few. The book is beautifully printed—who could resist its cover?—and the selections delightful, and it's endearing to see so many writers brought to rapture by so similar and elegant a sensation. As George Bernard Shaw fittingly concludes: "Yes, bicycling's a capital thing for a literary man." —Stephen Hiltner
John Swansburg, this week's culture diarist, pointed me in the direction of an interview that Slate's Michael Agger conducted with James Salter last year about Solo Faces and Downhill Racer. —Thessaly La Force
Ted Hughes's translation of Jean Racine's Phèdre absolutely crackles. It's a poem about envious royals and epic feuds, but to me it was at its best when Hughes captured the private dilemmas of these very public figures. When Phèdre denies her throne, insisting that she cannot rule a country if she cannot rule herself, it is an incredible moment that pits person against state and soul against country: "Me? Rule? Me take control/Of a state flying to pieces/When I cannot control myself?"—Rosalind Parry
I've been reading Adina Hoffman and Peter Cole's Sacred Trash, a book about the Cairo geniza—that small storehouse where, for centuries, local Jews deposited their shopping lists, letters, wills, and personal libraries. Cole and Hoffman's book tells the story of how the geniza was "discovered" by European scholars, transplanted to Cambridge, England (also St. Petersburg, New York City, and Budapest), and eventually changed the way we think about Jewish history. I can't think of another work that succeeds so well in making archival research into gripping adventure. —Robyn Creswell
Jonathan Franzen on David Foster Wallace in this week's New Yorker is an item you simply cannot ignore. Oh, and did you see his vacation pics? —T. L.