February 23, 2012 | by Robin Bellinger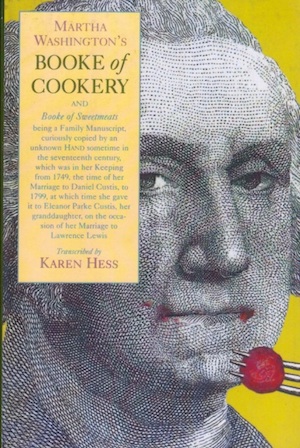 Martha Washington's Booke of Cookery is the transcription of a handwritten recipe collection that came to Martha Washington through her first husband, Daniel Custis. By the time she received it, in 1749, its value would have been mostly sentimental, not culinary; the old family recipes date from Jacobean and even Elizabethan England. This we learn from the book's spirited annotator, Karen Hess, whose commentary, published with the transcription in 1981 by Columbia University Press, works like salt: without it, the old recipes, filled with antiquated spelling and vocabulary, would be hard to choke down. With it, the reader—this reader—can't get enough. ("Lady comes from Old English words meaning kneader of loaves," Hess writes. How was I muddling along in my floury apron without this fact?)
Karen Hess, who was given access to the manuscript by the Historical Society of Pennsylvania, was an instinctive cook, trained at her grandmother's side between the two world wars in a Nebraska community where the competition to prepare the tastiest supper for the pastor was, by her own account, fierce. Her contempt for the use of flour—"demon flour"!—in sauces was the result of years of cooking and tasting. Her interest in food deepened in the sixties, when her husband, John, a reporter for The New York Times, took the family to Paris for a nine-year stint. France did its thing, and the housewife eventually transformed herself, despite her lack of formal training, into a pioneer of food scholarship. "No other aspect of human endeavor has been so neglected by historians as home cooking," she wrote. "I cannot help but feel that this neglect is also related to the ageless depreciation of the work of women." In her books she strove to re-create our domestic past accurately, without sentiment. After Martha Washington's Booke of Cookery, Hess published annotated editions of several more important early American cookbooks, such as Mary Randolph's Virginia Housewife and The Carolina Rice Kitchen, a social history of rice cultivation in South Carolina, with an emphasis on the role of knowledgeable slaves. In 1985, she became one of the founding members of the Culinary Historians of New York.
The book that launched her career, however, came out in 1977, and was cowritten with John. The Taste of America was a scathing indictment of American food culture in the twentieth century. Conventional wisdom held that early Americans were too busy surviving and fearing God to bother with their appetites, but the Hesses convincingly described a "colonial Eden" in a generous new land where one couldn't help but eat well. (Though the New Englanders had to work a little harder than the Virginians.) Back then, "local and seasonal" was not a cliché or a trend but a fact. "The Founding Fathers were as far superior to our present political leaders in the quality of their food as they were in the quality of their prose and of their intelligence," they write, giving us as examples not only Thomas Jefferson's Frenchified tastes and habits—a surprising proportion of his correspondence concerned the purchase of wine—but also Benjamin Franklin's ardent defense of the tastiness of corn ("one of the most agreeable and wholesome grains in the world … a delicacy beyond expression"). By contrast, they cite a New York Times account of Gerald Ford's habitual lunch: "a ball of cottage cheese, over which he pours a small pitcherful of A.1. Sauce, a sliced onion or a quartered tomato, and a small helping of butter-pecan ice cream." Eating was, Ford said, "a waste of time." Read More »
November 8, 2011 | by Sadie Stein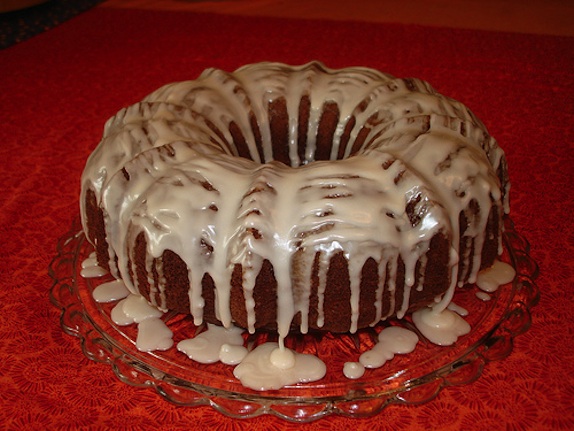 Lately, I've been thinking about wine cake. In the last few years there have been several "lost recipes" cookbooks—one, I believe, from the doubtless clinical and spotless kitchens of Cook's Illustrated, another by the great Marion Cunningham. Both are good, and both are made up largely of heirloom recipes passed down through the generations.
The way people learn to cook today—or don't—is a subject worthy of some study, because it's changing before our eyes. Back in the day, people learned to cook from their mothers, or maybe from a domestic science course. It was a matter of survival, or at least good household management, and was regarded as a necessary part of adult female competence.
There was also the question of continuity: consciously or not, recipes were a living link with the past—not merely of sentimental value, but time-tested before we had four forks to tell us whether to make something.