Posts Tagged 'Rebecca Bird'
January 2, 2014 | by Sam Frank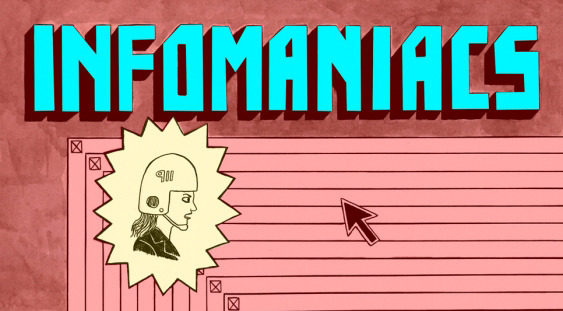 I met cartoonist and musician Matthew Thurber six-odd years ago somewhere in Prospect Park (a séance? a picnic?), and then saw him play alto saxophone in his Muzak-jazz-punk trio Soiled Mattress and the Springs at the New York Art Book Fair. We kept running into one another in odd places; or, since New York City is now lacking in odd places, at places where subculture obsessives go to convince themselves there's still oddness in the world. Soiled Mattress broke up in 2008, but Thurber's "Anti-Matter Cabaret" act Ambergris has continued, and sometimes he plays with artist Brian Belott as Court Stenographer and Young Sherlock Holmes. In 2011, after years of publishing minicomics, zines, and books on tape, Thurber collected his serial 1-800-Mice in graphic-novel form. It's about a messenger mouse named Groomfiend, a peace punk named Peace Punk, and a cast of thousands. More recently, Thurber wrote a culture diary for this blog, and started Tomato House gallery with his girlfriend, Rebecca Bird, in Ocean Hill, Brooklyn.
Thurber's new graphic novel, Infomaniacs, is about the singularity and the end of the Internet; it's also the final book from the great comics publisher PictureBox, which serialized parts of Infomaniacs online starting in 2010. The book's heroine is Amy Shit, a punk rapper who sometimes lives off the grid—in a subway tunnel, even. Her brother's a neo–Ned Ludd who goes around smashing iPhones. Meanwhile, Ralph is an Internet addict who escapes from reality rehab, then embeds in an immortality cult run by a libertarian oligarch who wants to eat the brain of the last man who's never seen the Internet. A horse and a bat, both intelligence agents for the ATF (Anthropomorphic Task Force), wonder what the singularity will look like—a 1950s computer, a crystal, a cell phone, a tree branch?
Thurber's video trailer offers a sense of the comic's raucous hugger-mugger and subterranean surrealism, but doesn't touch on its Underground Man againstness. For that, perhaps this quote, from an early, uncollected strip: "All bundled up and no place to go … The man who hates the Internet is a man who hates the world."
Thurber and I met in the office I share with a puppet theater, near the Barclays Center. Giant heads hung from the walls. I don't have Wi-Fi and don't know anyone's password. Read More »
February 9, 2012 | by Matthew Thurber
MONDAY
6:30 A.M. Woke up. Bought coffee at deli.
Read amNewYork on the subway to Queens. Page six: Khloe Kardashian and her giant basketball-player husband wear their pajamas to open Xmas presents.
8:30 A.M. At Queens College illustration class, one of my students turned in a drawing of anthropomorphic poop.