December 8, 2011 | by Sam Stephenson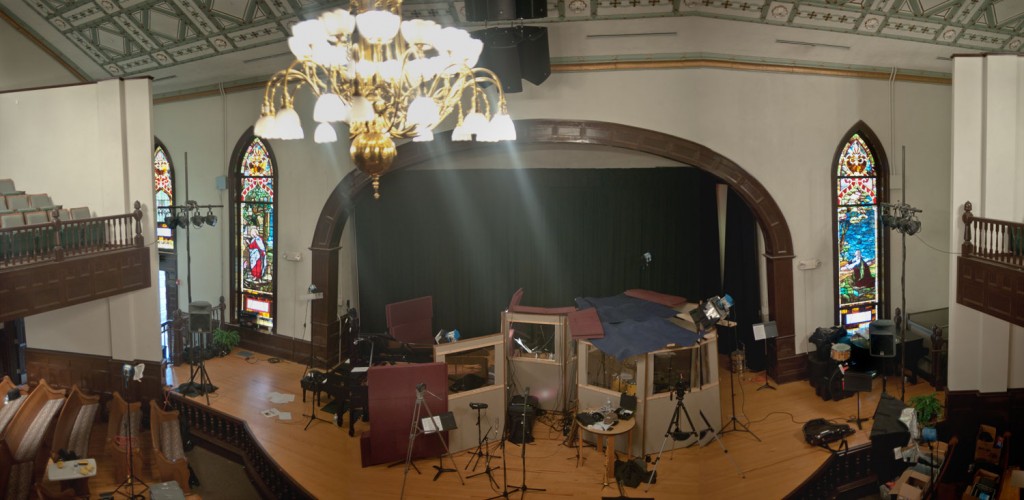 It's sixty-two degrees and raining in downtown Durham, North Carolina, on a Tuesday in mid-October. At noon members of the Branford Marsalis Quartet gather at the former St. Joseph's African Methodist Episcopal church, built in 1891, now converted into the Hayti Heritage Center, an arts-and-community nonprofit. Their goal is to record a new album over the next few days.
When Marsalis moved his family to Durham from New York a decade ago, the local press assumed he was replacing the retiring director of Duke's jazz department, saxophonist Paul Jeffrey. But Marsalis, who'd grown up in Louisiana, simply wanted to return to the South and picked Raleigh-Durham because the area had an airport large enough to get him anywhere he needed to go. Later, he began teaching part-time in the noted jazz program at the historically black North Carolina Central University, which is a mile down the road from Hayti.
The original St. Joseph's sanctuary remains intact: a wood-plank stage, hardwood pews, a balcony, chandeliers, and lots of stained glass. Marsalis began recording albums here in 2006 when he noticed that the room had a unique quality: there is no reverb at low decibel levels; it grows gradually with the sound.
October 6, 2010 | by Chris Weitz
DAY ONE, KIND OF
The first thing that occurs to me at the beginning of my cultural week is a question about criteria. What qualifies? If you read—or, as I did, listen to—Jaron Lanier's You Are Not a Gadget, the whole of culture is going to hell in a handbasket, as mash-ups and the digital entrepôt rid us of professional reportage, musicianship, originality, and notions of humanity itself. He cites Facebook as an example of the degrading of our standards: What is a "friend" from now on? Punters of my generation—and probably most readers of The Paris Review will find this a curious thing to say, but my three-year-old son will likely see it as a word for the tally of standardized connections amassed through the mediation of a Web site.
Now then.
DAY ONE, REALLY
Monday begins, technically, at 12:00 A.M. "Sunday night," with an Alan Watts1 lecture on the subject of "Play and Sincerity." I have long used Watts to put me to sleep, which implies that he is soporific. Not so; it's that I find his voice comforting.
I also indulged in Zombieland2, the unfeasibly entertaining comedy directed by Ruben Fleischer. Of the two ruling monster metaphors currently infecting the public mind (the other being vampirism, to which I have to confess I have contributed), I favor the flesh-eating variety, though that may simply be an indication that I have a Y chromosome.
While we are at it, I am afraid that I rate Justin Cronin's vampire epic The Passage a "sell." The word is that Ridley Scott is to direct the movie version, and this may be one case of a book that benefits from boiling down. I hope that Sir Ridley is in his best science-fiction mode and can bring some of the quotidian genius3 that he brought to Alien and Blade Runner.
My dad, who served in the Office of Strategic Services at the end of World War II, always said that the New York Times was the greatest intelligence resource in the world. When I got old enough to have developed a taste for a newspaper without (as he called it) funny papers, we had two subscriptions for the house, so that there would be no scuffling over favorite sections. (We also received the Post, for shits and giggles.) Read More »
Annotations
For the uninitiated, Watts was a former Anglican priest who abandoned his vocation and trained as a Zen Buddhist monk. In his lectures, he refers to himself as an "entertainer." To listen to him is to grasp the woolly abstractions of the New Age as common sense. And his rarefied, BBC English provides a marvelously counterintuitive texture to his thought.

Zombieland convinces me that comedy is the way to handle these matters. I am very partial to Robert Kirkman's superb comic The Walking Dead, though I worry that the AMC TV edition might suffer from a po-facedness that the comic manages to duck.
One further tentacle of digression: Scott's first film, The Duellists, is marvelous. It was adapted from a Joseph Conrad short story. My Dad and I used to watch it every year.