June 17, 2010 | by Caitlin Roper
R. Crumb is the subject of the first Paris Review Art of Comics interview. "I used myself as a character in the introductory page of the first few issues of Zap Comix, showed myself in a wacky cartoon, R. Crumb, the cartoonist." His self-portraits, like the artist, have aged well.
June 10, 2010 | by Caitlin Roper
You might be familiar with the oeuvre of Caitlin Roper as The Paris Review's resident tweeter. In between tweets, Caitlin is managing editor of the Review. For the summer issue Caitlin has surpassed herself—valiantly stepping in as interim editor between Philip Gourevitch and me. Issue 193 is her editorial handiwork. —Lorin Stein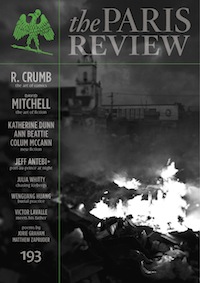 It's been thrilling to put together an issue, and to do it with my sharp, talented colleagues, Christopher Cox and David Wallace-Wells.
It's strange now to see this issue, which we've been working on for a few months, finally sprout legs and amble out into the world to meet its readers. There's a story, "Rhonda Discovers Art," by Katherine Dunn, that I can't wait for you to read. I think passionate fans of Geek Love will not be disappointed; Dunn is still as twisted and as genius as she was in 1989.
The summer issue also includes a stunning portfolio by Jeff Antebi of bonfires shot at night in Port-au-Prince, Haiti. He says, "the fires seem almost like sentient creatures coming alive of their own free will, and staying awake as long as they care to."
Did you know that R. Crumb saw God in a dream in 2000? It's true. He talks to Ted Widmer about his vision, his work habits, his influences—from early TV to Norman Rockwell, LSD to Donald Duck—in the first Art of Comics interview in our fifty-seven-year history. I won't rattle off the entire TOC, but I hope you enjoy the issue. It's full of surprises.